Electronic Arts has one of the most successful sports divisions in video games, but they have been in quite the predicament the last few years. Things also don't seem to be getting much better for them. Electronic Arts releases yearly versions of Madden, NBA Live, Tiger Woods Golf (now known as PGA Tour), NHL, FIFA and now UFC. When hitting the next generation of consoles, one would and should have expected more from their releases. As a company as big as Electronic Arts, and holder of some of the most exclusive rights in sports, consumers and gamers should be given more bang for their hard earned buck. Instead the yearly releases from EA Sports have been lackluster and display little effort in giving gamers what they want.
The biggest complaint typically comes from Madden as it is the highest selling sports video game every year. The biggest issue is that the company has the exclusive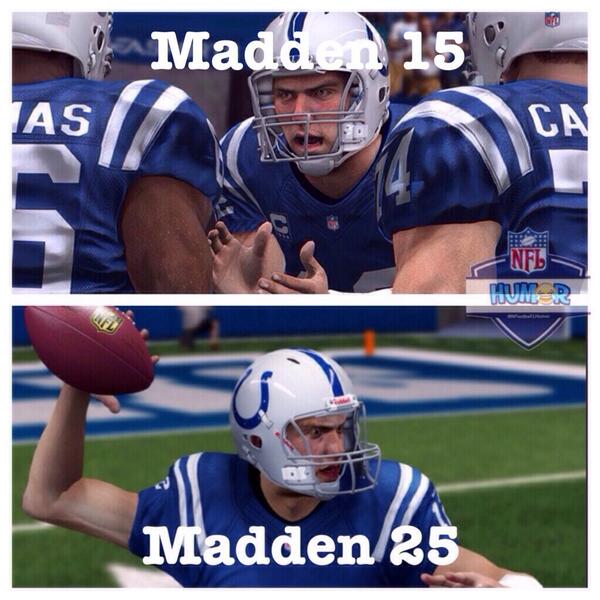 rights to the NFL and contractually can make what ever they want when it comes to displaying America's favorite game. Unfortunately, that isn't a good thing for consumers, and while they made a decent effort this past year with abandoning improvements to the Xbox 360 and PlayStation 3 versions of their games and focusing on next generation; it still has come up short to match the true experience of Sunday's. Much of the content washed over from the previous year, the  commentary has been dragging for the past two, and the gameplay has done just a little that makes it feel somewhat refreshed. The player models have modestly improved, and the game overall is in need of a lot of love before its next release.
Moving to NBA, Live 15 should be given a gold medal for the most improved. It could not get any worse than the 2014's version of the game which was EA's first attempt at basketball since 2010, unless you want to count Elite 11 which was not officially released. In four years, which EA said it would take to retool the previous game and make something that basketball fans could be proud of, they managed to make a game that could be proud of nothing and embarrassed by everything. Live 15 is respectable and should be admired for its attempts. There are good moments to be had, but when you go up against a juggernaut like NBA 2K; you don't stand a chance. There are many pieces that need to be fixed about Live, but at least it's some saving grace.
UFC is another reason that the sports team at Electronic Arts just doesn't get it. UFC plays terribly and looks average at best for next generation, the game needs to be cancelled at this point going forward. You know that it's not good when it is already offered in the Vault for Electronic Arts on the Xbox One within the first year of its release. UFC has no feel like it is the real thing that embraces the fast paced action and hard-hitting fight club that fans are accustom to. NHL was a major step backwards for the franchise, that was the shinning light for the company for a long time, on the previous consoles. This year is stripped down simply to make better player models. So it got a new shinny coat, and stopped functioning. Sounds like half of the people in Hollywood or Washington; spin it however you like.
An example of EA ignoring gamers is the treatment of the Fight Night boxing franchise. The last game (Fight Night Champion) was released in 2011 with positive reviews, but lower than expected but still decent sales numbers. In 2013 EA announced that Fight Night was on a "indefinite hiatus" while EA Sports was focusing on EA UFC which was developed by the Fight Night team. A year passes, and EA UFC is released to negative reviews and low sales while many fans have campaigned for EA to return to the Fight Night series which would do better numbers and would get much better reviews. MMA will always be tough to get right in a video game with the ground game mechanics. It currently looks like Fight Night is dead rather than on hiatus while EA UFC 2 might actually be a thing.
The one thing that EA can add to its shrinking portfolio is the fact that FIFA is a spectacle that is worth the price of admission. Each year FIFA gets better the way every game in the company's repertoire should. FIFA is a good solid franchise that plays and looks fantastic and is given the proper accolades for it. The problem is it's the only one. Electronic Arts consistently makes a mockery of the sporting business. It is in need of pressing the reset button for the company and so that sports and its fans get the due that they deserve from the game. EA needs to take notice of other studios, even within their own building. If they put half as much effort as they put into games like Dragon Age, Need for Speed, Battlefield and others the company might actually show that they have the ability to capture our beloved games in a digital way we would be proud of. Instead, all they have is the reset button that so many of us are hoping they'll get it and press that button.