This E3, we were shown a lot of new material that would soon be coming to the gaming industry. From Nintendo's 30th anniversary of Super Mario Bros, to the revival of Shenmue with Shenmue III, to brand new virtual reality systems shown off, Xbox One backwards compatibility, and fans are more excited than ever. A lot of new content was shown off this week at E3, but one of the most important things that this E3 brought to us was the remarkable fan service. All companies elected to show off new games for old series', which makes this year's E3 very memorable for it's wide variety of fan service.
Microsoft Gives Off Their Big Finish With Gears of War 4
Gears of War will be seeing its fourth installment coming to Xbox One at some point in 2016, which means that we will probably be seeing more of this at next year's E3 if it does not come out by then, which will most likely be the case. The brief reveal showed 2 confirmed Gears; one is JD and the other is an unknown woman. This means that the game could be a two-player co-op rather than the previously-seen four-player. It sure will be interesting to see how this game turns out, as it is packed with action.
Black Ops 3 Coming This November
As expected, we saw that a new Call of Duty will be released this November. Activision decided to make this game the third installment of Black Ops, and it is said to take place in 2060. Even though a Call of Duty was expected to appear at E3, it was a pleasant surprise to see it shown off by Sony rather than Microsoft. Black Ops 3 will be yet another action-packed game that involves somewhat futuristic weapons, which is a wide-open field of opportunity that Activision will hopefully take advantage of. The game will be released November 6th of this year.
Sony Closes With the Fourth Installment to the Uncharted Series
Uncharted 4 will be coming soon to Playstation, and it sure is good to see this series keep going. Based on the reveal we saw at E3, this looks like it could be the most interesting and realistic game in the series.
Several impressive features were shown off in the trailer, including:
Harder enemies that appear to react intelligently to your choices in battle.
A highly interactive world with interactive citizens that could be used for some sort of side-quest gameplay.
A destructible environment – material in this game is highly reactive to what the player does. For example, if you shoot a stand at a market, material goes flying all over the place, as it would in real life.
Graphics that are nothing short of breathtaking on the Playstation 4.
It is great to see that this game has a new installment, and it certainly looks better than ever. Fans should really be looking forward to playing this game in the near future.
Sony's Triple Combo 
Sony did not hold back at E3, and went full force with a triple combo of blockbuster announcements. Those three being Shenmue III, Final Fantasy VII Remake, and The Last Guardian. Many including myself thought these games were never going to happen so to get all three announced with targeted release dates too was a huge fan service to everyone who has been waiting for the games. Shenmue III for example is something that Shenmue fans have waited FOURTEEN YEARS to hear any kind of news.
Backwards Compatibility For Xbox One
It's a feature many fans have wanted both Xbox One and PS4 to have. The PS4 version of backwards compatibility isn't the best but at least it's something, which is what the Xbox One didn't have until E3. One of the biggest announcements of the whole three days of conferences was that Xbox One games can now play Xbox 360 games, and the list while short currently will be over 100 by the end of the year. We at ThisGenGaming can't wait for backwards compatibility to be fully integrated to Xbox One.
Fallout 4 Shown Off by Bethesda
Bethesda showed off Fallout 4 the other day – yet another game to meet it's fourth installment. A great addition to this game is its open world and an apocalyptic world that feels more intense than ever. Another great addition to this game appears to be some form of substantial crafting and customization. As stated by Studio Director Todd Howard, the real goal of this game is to give players as much freedom as possible. We see this with a new customization feature – you can now customize your character in the game and even pick its sex. Many think that after 4 installments of a game like this, material would become very repetitive. However, Bethesda might please the fans with a new epic story, as the prologue appears to occur in a time before the nuclear disaster that causes the apocalypse. This game is sure to be a hit!
Zelda Triforce Heroes Coming to 3DS
What would E3 be without The Legend of Zelda? Such an iconic franchise that continues to innovate its games with combined nostalgia and new gameplay. This time, we were brought a new 3DS game that is planned to release during the first quarter of 2016, and it is known as Triforce Heroes. For those of you who enjoyed the graphics of A Link Between Worlds and the multiplayer feature of the Four Swords series, this is the game for you. Many were not expecting this game, but fans were expecting some sort of multiplayer Zelda game to come out eventually, because producer Eiji Aonuma previously stated that they wanted to rethink the conventions of the Zelda franchise, and one convention included the idea that you have to play by yourself. Even though this game isn't as breath-taking as a reveal of Zelda Wii U would be, it still seems like a good game for you to play with your fellow Zelda friends and relive the nostalgic gameplay of the Four Swords series, along with glorious 3D graphics similar to A Link Between Worlds.
Super Mario Bros Will Celebrate Its 30th Anniversary With Mario Maker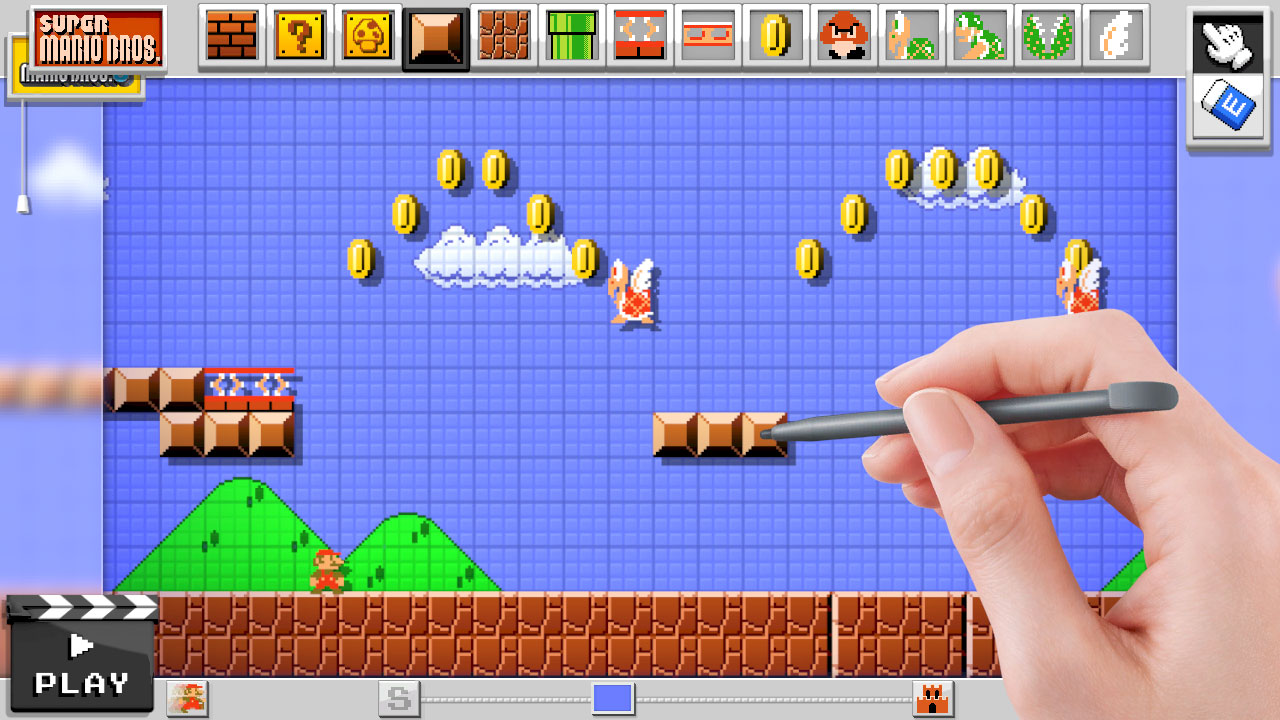 What game is more nostalgic than Super Mario Bros? It's amazing that this once simple game became a franchise that is loved by people of all ages. This is the strongest game series out there, as Mario always comes out with something for fans to play with every new system. Along with a new Paper Mario game that was revealed, the series will be celebrating its 30th anniversary with Mario Maker that brings the adventure of Super Mario Bros like you've never seen it before – you can create your own world of Mario. There's no better time to release a game like this, and fans are ecstatic about the upcoming game. This franchise has been with the video game industry since the very beginning, and seeing a game like this come out for the series is remarkable and it will definitely be interesting to see the creative minds of people all around the world that purchase this game and create their own world of Mario.
Summary
In short, this year's E3 included a lot of fan service for fans that are seeking new games coming to old franchises. We are just a short couple of months from seeing some of these games in our own homes, and it will definitely be fun to play them. Some gaming companies were stronger than others this year, but one thing is certain – the fan service for all companies at E3 this year was strong, and everyone is looking forward to playing these upcoming games.
Did you feel E3 2015 was the biggest fan service for gamers? Let us know in the comments section below.