With the recent news of Xbox One games making their way to the Windows 10 platform and the insistence from Phil Spencer and other top Xbox execs, it seems Microsoft could be putting quite some emphasis on mouse and keyboard support for the Xbox One We look at why it could end up being a killer feature for the Xbox One.
While we know from Phil Spencer and other top Xbox execs that full mouse and keyboard support is coming in the near future, a new rumour by Xbox One Gaming Netherlands, suggests that there might also be an Elite mouse and keyboard in the works for the Xbox One. We know that Microsoft has enjoyed great success with the Xbox One Elite controller with many unable to even find one in it's early days and it's a given that the profit margin must be pretty big on these things so it's no surprise really that they would extend the Elite line even further. While you should take this with a grain with salt for now, here is the quote from the source that spoke to Xbox One Gaming Netherlands:
"A source within Microsoft indicates that there is even an Elite Keyboard and Mouse on the way. This would mean that Microsoft, in addition to the previously released Elite Controller last year, is also producing a compatible keyboard and mouse for the console…E3, which starts next June, is an excellent stage to show these products to the general public."
Also, according to the source this keyboard and mouse would be used with games like Halo Wars 2 etc.
Additionally, as you can see in this Twitter exchange Phil Spencer responded to a fan who asked about when we can expect to see mouse and keyboard support on the Xbox One and replied "Yes, we will get this done." It is possible right now to use a keyboard but for now it only works for inputting text. However, the addition of full, native mouse and keyboard support could be a big step for the Xbox One and would be something to help it differentiate itself from its competitors.
There are those that fear mouse and keyboard support could be a negative thing for the Xbox One. Surrounding Phil's twitter exchange were other fans upset that they would have to play against keyboard and mouse players who would, naturally, have the upper hand. However, Mike Ybarra, Director of Program Management, Xbox and Windows Platform at Microsoft got involved in the Twitter exchange and reassured fans that "When we do it, we'll be smart about it. Game devs will too. We all know the competitive elements." hinting that controller players will not be forced to play against keyboard and mouse players, as some had feared.
So, since we know that Xbox aren't about to add mouse and keyboard support into multiplayer games such as first person shooters for the sake of fairness, there are still plenty of games that could take advantage of this feature.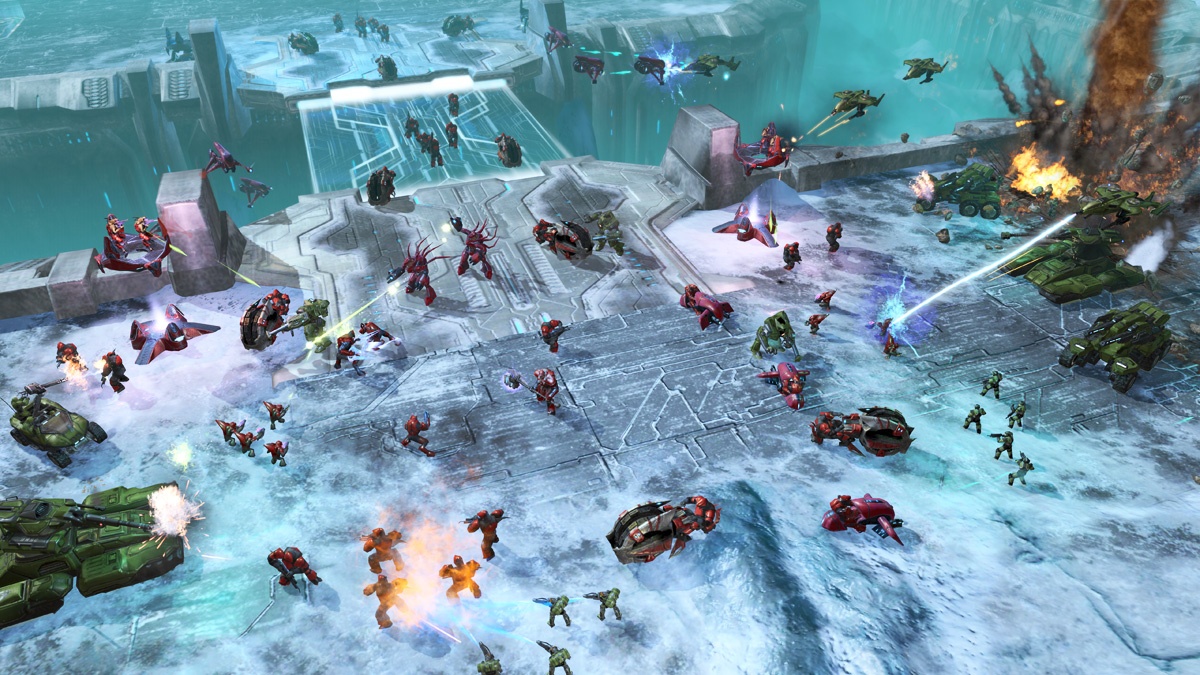 As the source in Xbox One Gaming Netherlands mentioned, a game like Halo Wars 2 would be a perfect fit for native keyboard and mouse support on the Xbox One. The original Halo Wars was a real surprise hit on console considering that RTS's don't translate very well at all to console but yet Halo Wars managed to do something right with controller compatibility. We expect Halo Wars 2 to improve on it's controller features even more but for those that prefer, surely letting others play with mouse and keyboard can't be a bad thing? After all, it's all about options.
This begs the question though over whether it's time for the console and PC markets to stop being so alienated from one another and to be brought closer together. For as long as we can all remember, PC gamers have kept their own and Console gamers have done the same but are they really that different from one another? Since it's heavily suggested that Xbox One exclusives will be going to the Windows 10 platform in the feature, does it seem that unlikely that we'll be seeing more PC-only games make their way to the Xbox One?
Massive games like League of Legends, DOTA, Heroes of the Storm and many other MOBA's have long been PC exclusive since these games wouldn't be able to translate to the console very well due to the angle of gameplay. These are fast-paced massive online battle arena's and controllers would only weaken that experience. However, if Microsoft are to introduce an Elite mouse and keyboard or even just mouse and keyboard support on its own, then a game like League of Legends could, theoretically, also come to the Xbox One exclusively for the mouse and keyboard players on that platform. It does seem that far-fetched if you ask me.
Even better, since there are no controllers involved we'd be pretty sure that if these type of games were to make their way to the Xbox One, then cross-play would also be a significant feature. We know that Microsoft doesn't allow cross-play with other consoles, but games like Fable Legends and Halo Wars 2 prove that they're not about to shy away from cross-play between Xbox One and PC players. Really, this is a win-win situation for both the PC exclusive games like League of Legends and the Xbox One. Not only do these PC exclusive games get bigger communities and bigger revenue, the Xbox One also bolsters it's own line-up of games and the PC market may be the perfect solution for Microsoft's machine.
In addition to MOBA's, I think there's also big potential for RTS's to make their way to the Xbox One with mouse and keyboard support. RTS or real time strategy games have long been absent from console for the same reasons as MOBA's; they don't translate very well to controllers. These games are often too complicated and all the required functions simply cannot be mapped on a controller. However, RTS's are still a very popular genre of games and it doesn't seem too unlikely that they could become more prominent on the Xbox One.
If Microsoft are serious about their integration of the Xbox One and Windows 10 platforms and are appeasing PC users by providing previously Xbox One exclusive games on that platform, then surely it seems right that this should be a two-way system and Microsoft should consider partnering up with the likes of League of Legends, DOTA etc. to give the Xbox One a compelling feature for those that wish to play these sort of games just on their console hardware.
Do you agree with me that full keyboard and mouse support could be a killer feature for the Xbox One? Let me know your thoughts and opinions in the comment section below.