Don't be fooled by the cutesy graphics, Overwatch is definitely a lot more competitive than it might initially seem. Whether you're looking to fill the role of  Tank, Offense, Defense or Support these are definitely the most accessable heroes for anyone new to Overwatch to use and contribute to your team meaningfully. Blizzard has done an incredible job of creating a roster of characters which are, overall, pretty well balanced with one another but there are some heroes that are more difficult to use than others. While we'll have an advanced guide coming soon, here's the best characters to use if you're a beginner in Overwatch.
Soldier 76 – Offense
The closest thing to a "dude-bro" Call of Duty character in Overwatch is definitelly Soldier 76. You can get a nice feel of this hero by simply going through the tutorial since he is the designated tutorial character. Although clearly being designated as the 'entry point' hero, don't underestimate his abilities. Soldier 76 can do pretty insane DPS at times and his sprint ability allows you to get back into the fight quicker than most other characters; meaning they'll never be a dull moment if you choose to use Soldier 76. He comes with an Assault Rife equivalent in his Pulse Rifle which acts as a standard FPS gun would do so at least there's no learning curve there. His group heal is also a very useful ability and can sometimes make the difference between victory and defeat. Use him for your first couple of games and you'll do well enough to contribute meaningfully to your team and then switch him out for one of the more original and perhaps more powerful hero in the roster.
Reinhardt – Tank
In most game modes having a Reinhardt is a very useful useful thing and could be the difference between winning and losing, especially in 'escort' missions. A stack of health and a massive hammer basically sums up this guy and he's easily the most easy to use Tank for a beginner. His ability to generate a massive shield is crucial to objective play and with his huge health pool, he won't be going down too easily. If you want to soak up damage and play the objective, Reinhardt is the tank for any beginner looking to fill that role.
Mercy – Support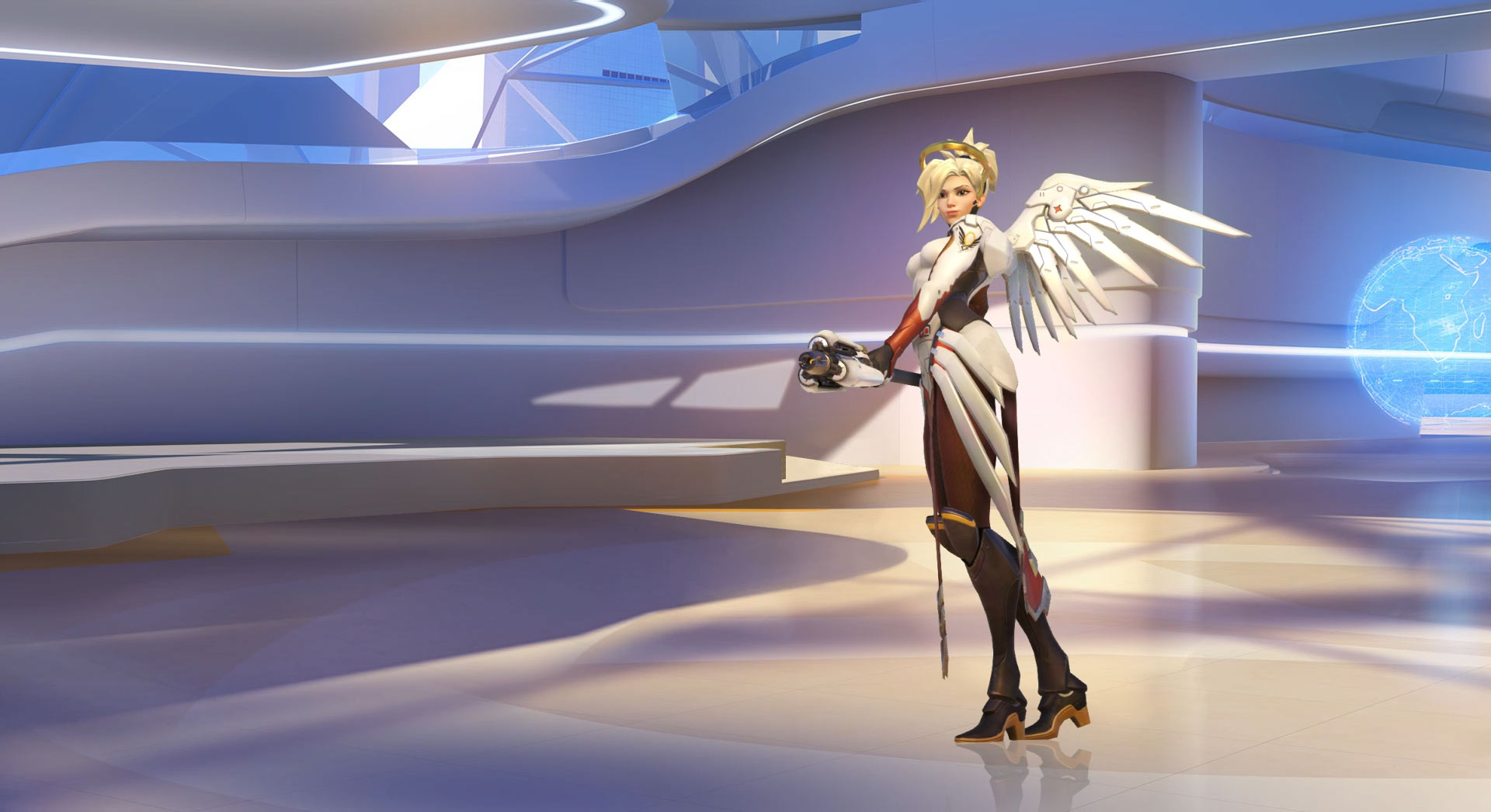 If you've played competitive team-based games before or even watched any major e-sports event then you know that a Support character is absolutely vital to a team of heroes. While now always favoured by new players since they can seem initally daunting, Mercy removes that learning barrier and is the easiest Support healer to get introduced to as a beginner. Chances are you won't be going on any huge kill streaks but you'll know and hopefully your team will that you were the real 'hero' of the match, especially if played well. Mercy has a collection of really useful support powers. The Caduceus Staff she wields allows her to tether to a teammate and buff their health and damage simultaneously. The guardian Angel ability lets her fly quickly to other heroes in need and the Resurrect ability brings buddies back from the dead.
Windowmaker – Defense
There's certainly tankier defense heroes in Overwatch but with the ability of vision pulse, a grappling hook and a bomb alongside a SMG-type weapon and a sniper makes Widowmaker, while one of the more original characters, actually feel quite familiar. Although her pool of health is only 200, she does devastating damage with her sniper rifle and her vision pulse ability is hugely useful in team fights and picking off enemies. As Widowmaker, you'll need a good offensive team to ensure you don't have anyone run up on you and force you into CQC but as you pick off enemies with your sniper, your team will be very grateful for your presence. On a side note, Widowmaker also has some of the best skins in the game in my opinion which may or may not affect your decision to pick her but she's a very powerful hero for a beginner to use.
---
There you have it, those are subjectively the 4 best heroes to fill each roll in Overwatch for beginner's. Again, Blizzard has done a great job so far at balancing the heroes so the main factor to look for is accessibility and how difficult heroes are to use. Stay tuned to ThisGenGaming because we'll have a lot more Overwatch guides coming this month!