Today DICE, an Electronic Arts Inc. (NASDAQ: EA) studio, announced Battlefield™ 1. Only in Battlefield 1 will you bring a horse to a tank fight and squad-up with your allies in epic multiplayer battles with up to 64 players. Through ever-changing environments at the dawn of all-out war, no battle is ever the same. Battlefield 1 will launch on October 21st, 2016 Worldwide on Xbox One, Origin™ for PC and PlayStation®4.
Thanks to an Amazon listing, we've got our first look at the collectors edition.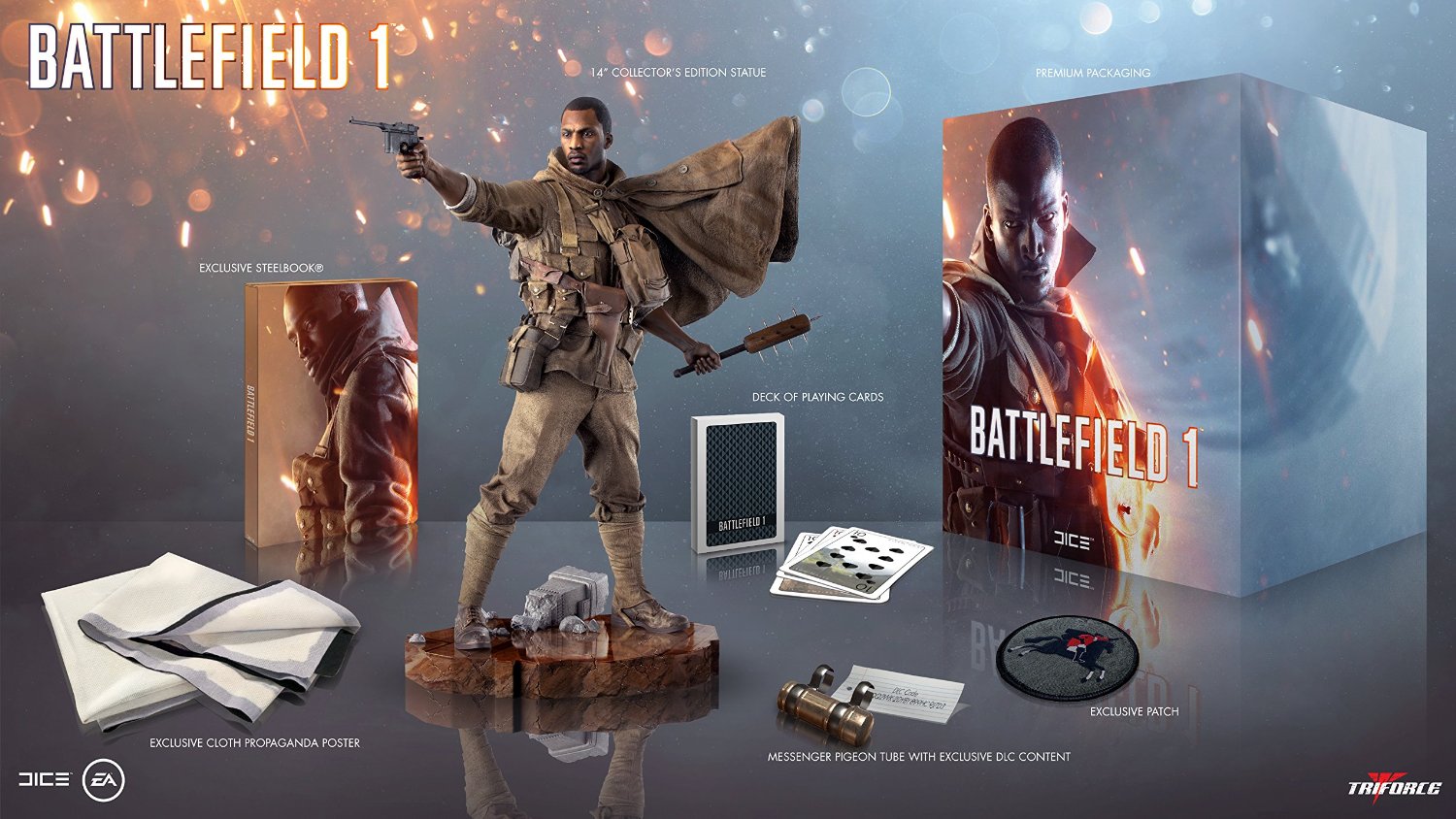 As you can see you'll receive a 14″ Collectors edition statue of one of the main chracters in the game. A deck of playing cards. An Exclusive cloth propaganda poster. A messenger pigeon tube with exclusive DLC content, an exclusive patch and an exclusive steel book case.
Here's the description that entails a few more details about the game:
Epic 64-Player Multiplayer Battles – Squad up with your friends and join in the most epic multiplayer battles in FPS history with up to 64 players fighting as infantry or piloting vehicles ranging from tanks and bikes on the ground to biplanes and gigantic battleships.

Experience the Dawn of All-out War – Be a part of the greatest battles ever known to man. From the heavily defended Alps to the scorching deserts of Arabia, war is raging on an epic scale on land, air and sea as you witness the birth of modern warfare.

Earth-shattering Intuitive Destruction – With intuitive destruction no battle is ever the same. Destroy vehicles big and small, and demolish entire buildings. From tiny wooden houses to massive stone forts, even the grounds on which you're fighting can be blasted apart.

War Stories from the Far Edges of the World – Discover a world at war through an adventure-filled campaign that captures the variety of a global conflict through the eyes of several different characters all united by this first modern war.