Thanks to a leaked image just moments ago it's all but confirmed; the next entry in the Battlefield series will be taking us back to the First World War, or at least some version of it. The World War One setting was rumoured a couple of weeks back and we even reported on it, which you can read here. For a comparison, here's where Call of Duty is taking us in 2016:
The rumour was first spotted on NeoGaf, and the store listing lists October 25 as a release date. It includes the description "Mehrspieler Taktik Shooter im 1. Weltkrieg" which translates to "Multiplayer tactical shooter in WW1".
Just moments ago, a user on reddit 'Criop20' leaked a picture from the Xbox dashboard confirming a WW1 setting.
From what we can gather, he's wearing the trench coat in a 'cape style' and is carrying a Mauser C96 and trench club/grenade with a Zeppelin in background. He also seems to be carrying this Sterling SMG on his hip:
The Sterling submachine gun is a British submachine gun. It was tested with the British Army in 1944–1945 as a replacement for the Sten but it did not start to replace it until 1953. It remained in use until 1994, when it was phased out at the end of the phase-in period of the L85A1 assault rifle.
Alternatively, it could also be a MP18 SMG:
The MP 18 manufactured by Theodor Bergmann Abteilung Waffenbau was the first practical submachine gun used in combat. It was introduced into service in 1918 by the German Army during World War I as the primary weapon of the Sturmtruppen, assault groups specialized in trench combat. Although MP18 production ended in the 1920s, its design formed the basis of most submachine guns manufactured between 1920 and 1960.
It seems people aren't happy over Call of Duty's new adventure into space either. Soon after the it was released on YouTube, the trailer began racking up dislikes like nothing else I've ever witnessed (except the awful Ghostbusters remake trailer), becoming one of the most disliked videos on YouTube. In response to this hate, Activision has even released a statement admitting that:
"Secondly, of course, we know there are people in our community who are nostalgic for the boots on the ground-style gameplay"
With all the tremendous hate and people clammering to go back to gritty, boots on the ground combat, here's why Battlefield could be top dog this year and finally beat out Call of Duty (at least in sales) Battlefield 4 sould roughly 13.80 million copies on all platforms which, while very impressive, is still about 10 million short of Black Ops 3 which should roughly 23.39 million copies on all platforms.
With all the demand for FPS fans for the big AAA franchises to take us back to older-style settings, perhaps Battlefield now stands a very good chance of being the top dog this year. In a very smart move on Activision's behalf, Infinite Warfare will be sold alongside The COD 4 remaster, which could actually do them a lot of good where otherwise people would have had no incentive to buy the base game. However, it can't be undermined just how much hate Infinite Warfare is getting: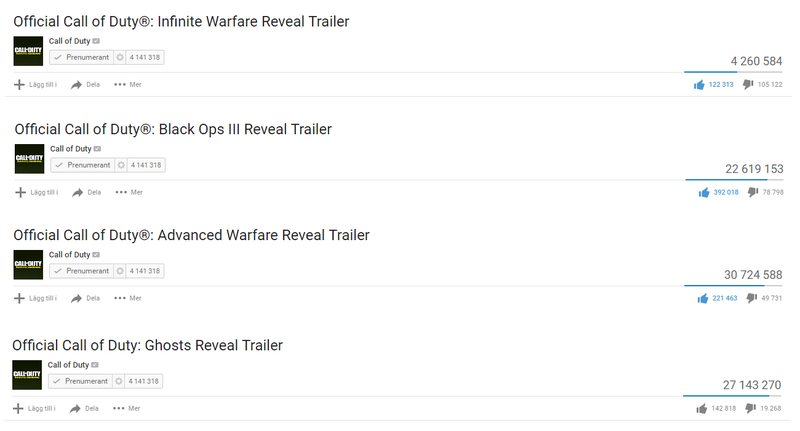 If Battlefield ever had a chance to take the crown from Call of Duty, this is it. Tell us, will you be making the jump from Call of Duty to Battlefield this year? How do you feel about all this? Let us know by leaving a comment below.
---
Don't forget, ThisGenGaming is recruiting new writers so if you're interested check out this link to let us know you're up for joining the team.