Video game collector's edition are like girlfriends to college students. They are gorgeous to look at, the cool rich guys always get them and while college kids want them, they are just too expensive.
If you are one of those lucky nerds with disposable income, this fall should be extra exciting. Just as there is a plethora of great games gracing consoles soon, most come with gorgeous collector's editions as well. From detailed statues to maps, steel books and everything in between, here is ThisGenGaming's Top 5 Collector's Editions for the 2016 Holiday Season:
*All prices listed are USD
Titanfall 2
What separates Titanfall 2's collector's edition from the rest is the amount of merchandise that can be used outside the game.
The dog tag flash drive offers a solid amount of storage at 8 GBs, the Pilot Field Journal is handy for any professional setting and while not for me, the patches and scarf can be a nice accent to any nerd's wardrobe.
But no one buys a collector's edition for practicality and Titanfall 2 has fans covered on that end as well. The Vanguard Pilot Helmet Replica is gorgeous from the design of the helmet to the light up visor. And unlike the Master Chief Helmet from Halo 3, fans can actually wear this piece of head gear.
That in itself brings me pause though, as I unfortunately have a massive head and am not sure if it would fit me. But for most fans who will only wear it a few times, the helmet will make a great edition to the man cave.
Just like Gears 4, Titanfall 2's collector's edition will cost around $250. Titanfall 2 is one of my most anticipated games of the year and if you can't stop fantasizing about being a Titan Pilot in real life then this is the purchase for you.
Gears of War 4
One of Xbox's premiere franchises is finally returning this October and to celebrate, The Coalition is releasing a truly awesome collector's edition.
On top of one of the most anticipated games of the year, there are some simple yet enticing pieces in this collection.
As a fan of the series, I would attach the frag grenade keychain to my keys the second I opened the box and find a place on my wall or desk for the badass lithograph. Even the box has a certain simple-tastefulness that would force me to horde it in my closest to look at and do nothing with long into the future.
But just like the other collector's editions on this list, the main selling point is the statue. What is more badass than the game's protagonist riding a huge motorcycle and touting a lancer? Nothing is the correct answer.
As far as video game statues go, this work of art is a beast, coming in at 11 inches tall and 19 inches in length. As with the other statues on this list, J.D. Fenix and his ride are bursting with detail. Little touches such as the grit and grime of the bike and the little bed of flowers shows that there was a good amount of time put into making this something fans would really appreciate.
This edition also comes with the game's Season Pass and other in-game items to sweeten the deal.
The only sticking point is the high price, coming in at $250. For fans of the series who can afford it, this seems to be one of the best collector's items of the year.
Final Fantasy XV
The Final Fantasy XV collector's edition is the most expensive on the list, coming in at a $270 price point. That being said, it also features the most of any of the other collections.
It features a bevy of in-game items, the soundtrack, multiple steelbook cases and another sleek box.
The two pieces that stick out to me though is the brilliant statue of Noctis, one of the games characters, and an almost 200-page hardcover art book. Those two pieces alone are enough to justify the price for fans of the series.
There is only one problem though. Unless you are a fan that already jumped on this edition when it was first announced, the collector's edition will be hard to come by for a reasonable price. Square Enix is only releasing 30,000 of these and the best fans can do at this time is get on a waiting list at Square's website. Scarcity aside, this is an extensive collection that fans of the series will thoroughly enjoy.
Dragon Ball Z Xenoverse 2
I will be the first one to admit that I don't know if this game will be any good. Growing up, I loved DBZ and every subsequent video game, especially the Budokai fighting games.
That being said, there is no denying that for the fans of the series, this collector's edition is a must have.
The steelbook case and official soundtrack are nice touches, but it's the 13-inch statue of Super Saiyan Goku that has fans foaming at the mouth. The sheer amount of detail in this piece is astounding as one can see every bulging muscle and ripped piece of clothing on Goku's body.
The one puzzling part of this edition is that the $30 Season Pass is not included and while probably not a deal breaker for hardcore fans, it is something to take note of.
This collector's edition will run fans $150 and that can seem steep for a game that hasn't had the best track record, but at the end of the day, if you're buying this bundle, you are more-than-likely purchasing it to add a stellar-looking Goku statue to your collection.
South Park: Fractured But Whole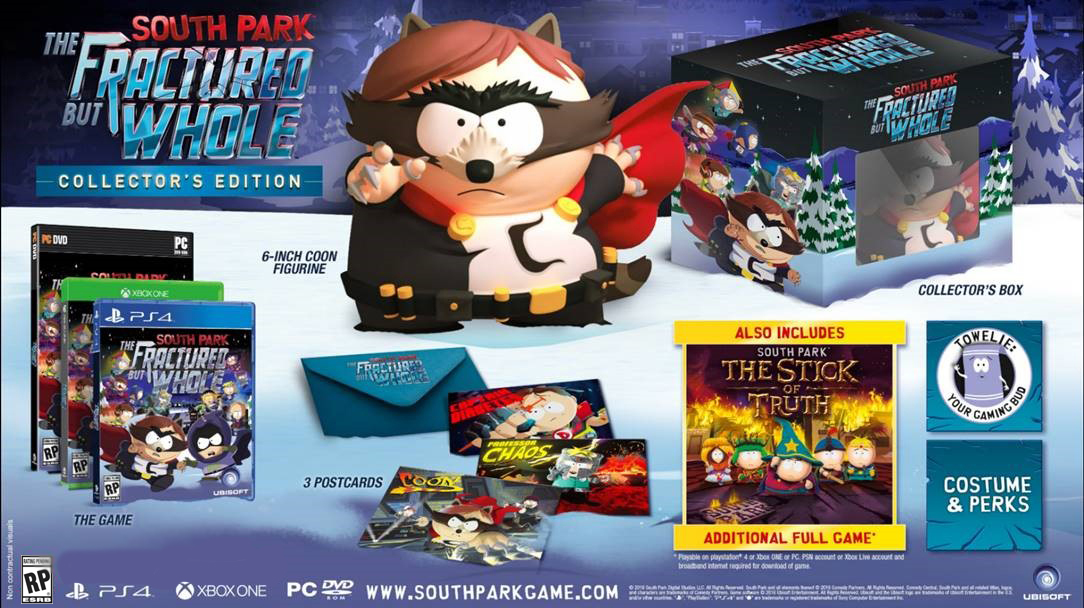 As a huge fan of the show and The Stick of Truth, South Park: The Fractured But Whole is my favorite on the list. The post cards, in-game items and inclusion of the previous game are all great touches that are enticing for fans of the series.
But damn do I want that Cartman figurine.
Ever since I saw him at the Ubisoft Press Conference at E3 this year, I knew that I wanted to add him to my collection.
Sure, there are bigger and more detailed statues out there, but as a fan of the show, I can't think of another character I want more to perch on my desk.
The catch here though again is the price. This edition is the cheapest on the list at $130. That being said, outside of the figurine, there isn't a ton of value to justify the high price point. As much as I want the Coon, I may wait to see if there will be a cheaper way of attaining him.
---
On top of these five, there are many other awesome collector's editions coming out this holiday season. Let us know in the comments if we missed one of your favorites and keep coming back to ThisGenGaming for more articles, reviews and giveaways.
---