Microsoft and Sony are both working on projects far bigger than the slim lined versions of their current generation consoles, with Project Scorpio and the Neo arriving later in 2017. However news has come to light recently regarding a PS4 slim which is supposedly rumoured to be a competitor to the already popular Xbox One Slim that was announced earlier this year in E3. So, what do we already know about both consoles?
Xbox One Slim
The Xbox One Slim is a pretty big hardware refresh from it's predecessor, and is said to be the most compact Xbox ever made, allowing users the ability to use a 2TB hard drive ahead of the current 1TB and 500GB versions. Size wise it is said to be around 40% smaller than the current Xbox One and it will have native 4K support with improved HDR visuals and other important tweaks to the original model – one of which is an unadvertised performance boost to a selection of games, courtesy of its improved GPU says Microsoft's Albert Penello, senior director of product management and planning,
"Some games (ones that utilise dynamic resolution and/or unlocked frame-rates) may see a very minor performance improvement … our testing internally has shown this to be pretty minor, and is only measurable on certain games, so we didn't want to make it a 'selling point' for the new console."
Additionally, the new things to take note of in the Xbox One Slim are:
40% smaller form factor with a new colour scheme being that of "robot white" – hopefully making another black console also?
HDR visuals for supported games and video, additional 4K video support for blu-ray, applications and movies with 4K game upscaling too
Performance boost with the improved GPU, with up to 9 additional frames-per-second on some games.
Revamped Xbox Wireless Console design and connection (bluetooth)
Optional vertical stand to allow console to be stood upright
Scrapping touch sensitive power button on console, making it physical instead
Device pairing button as well as 3 USB ports on the front of device
2TB storage support
IR Blaster on device, allows you to turn on devices like a TV without a remote
It must be noted though, that the Xbox One S will no longer have a Kinect port however existing users will still be able to use it through an external adapter and the external power brick is now inside the console. All existing Xbox One games, apps and already backwards compatible games will still be supported as well as any peripherals.
With regards to the performance boost, Phil Spencer said the following,
"I don't want anybody to think [Xbox One S offers] a performance boost for Xbox One games. That's why we said HDR on-screen, and that's what we want to be explicit about. Outside of that, you should expect your Xbox One games to run exactly the same."
The Xbox One S is available in three models, releasing in waves starting August 2:
2TB Launch Edition (includes Xbox One S Vertical Stand) for £349 / €399 / $399, releasing August 2
1TB edition for £299 / €349 / $349 (Xbox One S vertical stand sold separately for $20), bundled with Madden NFL 17 (North America only) or Halo 5 and Halo: The Master Chief Collection, releasing August 23
500GB edition for £249 / €299 / $299 (Xbox One S vertical stand sold separately for $20), bundled with Halo 5 and Halo: The Master Chief Collection, releasing August 23
PlayStation 4 Slim
While many are sticking to the idea that this recently leaked console is fake, those who are hoping it is real have every right to be in that state of mind. The console popped up on Gumtree, a UK auctioning site for £295. We're unsure if the console is real, but the pictures seem hard to have faked. I wouldn't be surprised if Sony released a slim version to battle the Xbox One S. We can confirm though, that the PS4 Slim will not have 4K or HDR support (something the competing console does have).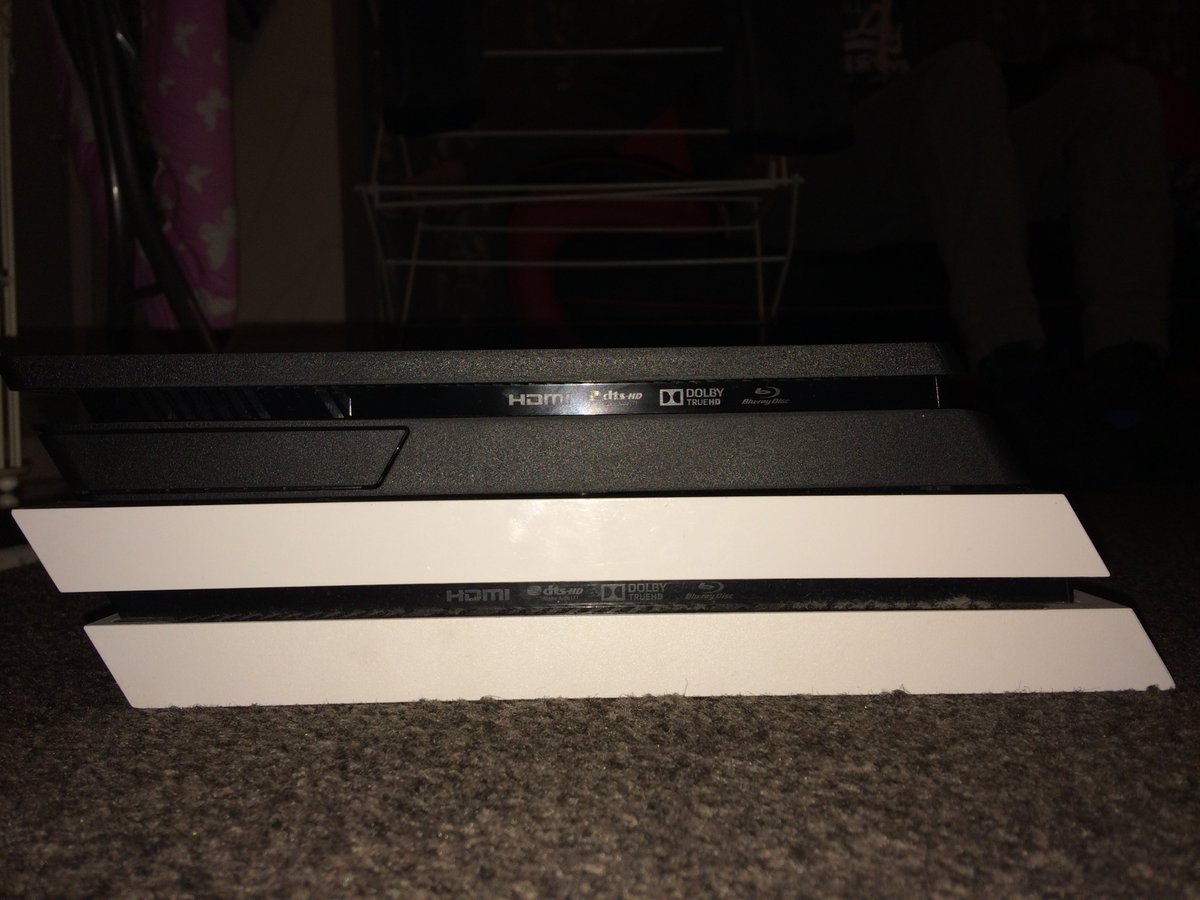 Immediately we can see that the console on top (PS4 Slim) is significantly smaller with a more rounded approach than the sharp, edged current generation PS4.
The biggest change is the top part, which looks to have been halved in size. Usually the hard drive is placed on the right hand side of the console which is where it is located on the current generation. The buttons, like the latest model are physical and there are two USB slots on the front beside the CD drive.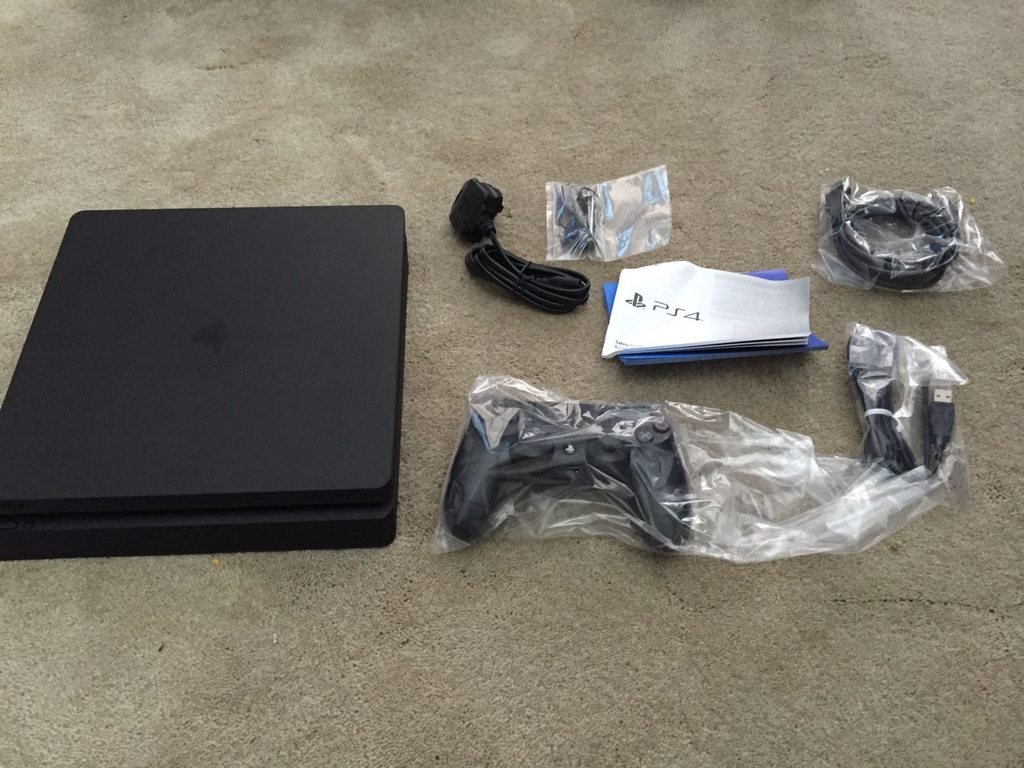 So, it seems to come with a standard, unchanged DualShock 4 controller and all the regular accessories such as a HDMI cable, MicroUSB charging cable, earphones (with microphone), power cable and the manual.
The bottom is nice and unique, using the X, Triangle, Square and Circle on the bottom with a PS logo in the centre. The back has a HDMI port, an additional USB port with an ethernet and power port – nothing new here.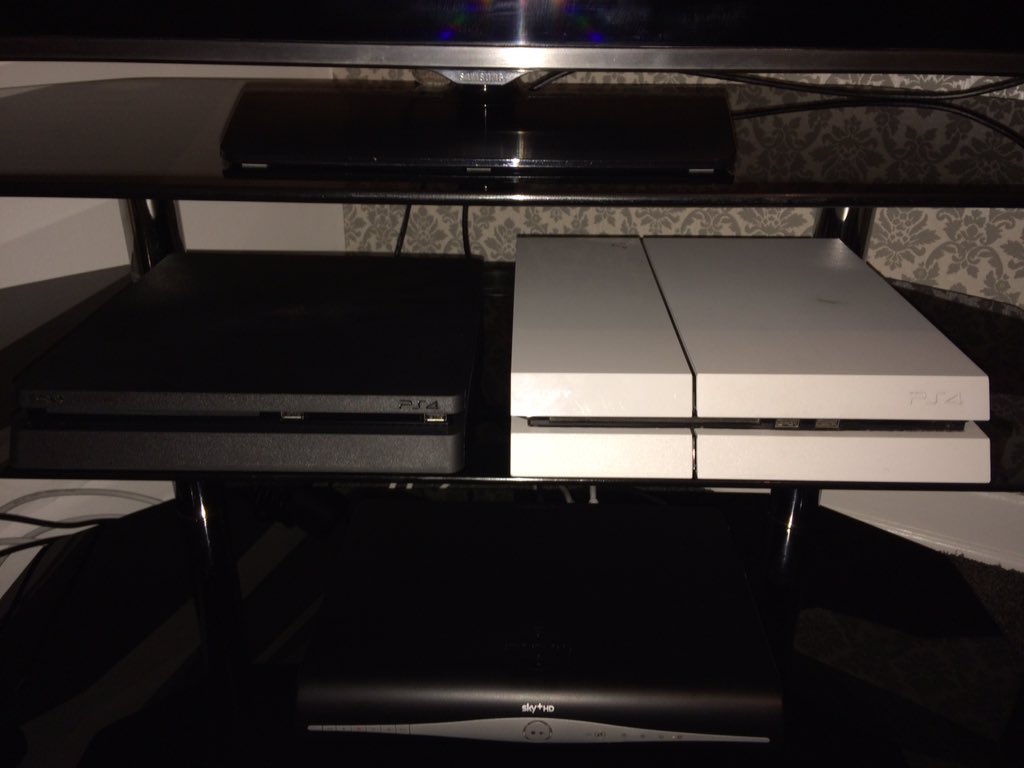 (Images from NeoGAF)
The PS4 Slim seems to have a decent size in comparison to the Xbox One S, however I'm not a huge fan of the rounded edges they've opted for instead. The PS4 Slim is reported to be releasing September 14th.
---
We'll update you as soon as we know more information, so stick around on the site and this article. Remember to follow us on Twitter for regular around the clock updates. What do you think about the news? Do you think the images are legitimate? Do you think the console is fake? Let us know down below in the comments!