Reminder: The team at ThisGenGaming has already recorded some 1080p 60fps footage for YouTube. Make sure to give it a view and subscribe for even more videos!
I can't remember the last time a major AAA release actually got a demo allowing users to try out the game before release. Having a demo was common practice years ago but such practices have since all but vanished. Thankfully, Xbox and Playground is giving everyone on Xbox One a chance to try out Forza Horizon 3 before its full release later this month. This means you can get your hands on and get a feel for the game – something which should be of great help in whether or not you decide to buy the full game but let me tell you: from what I've played, I'm desperate to get my hands on with the full game.
Forza Horizon by far is my favourite racing series in gaming. The arcade-like racer from Playground games feels like a racer for just about everyone. From gorgeous vistas to driving some of the most exotic and luxurious cars on the planet, there's nothing quite like Horizon. In Forza Horizon 3, this is the penultimate experience yet and I firmly believe this may be the best racer on current gen consoles. In fact, it might be one of the best racers of all time.
Forza Horizon has always been about adding an abundance of fun to a racing game and Horizon 3, certainly, does just that. The decision to set the game in Australia this time around is paramount to the experience we are getting in this latest installment. Forza has never looked so gorgeous. We're going down under in Horizon 3 and Turn 10 studio head Alan Hartman says that Australia has "allowed us to create the largest, most diverse, beautiful, and fun open world we've ever built".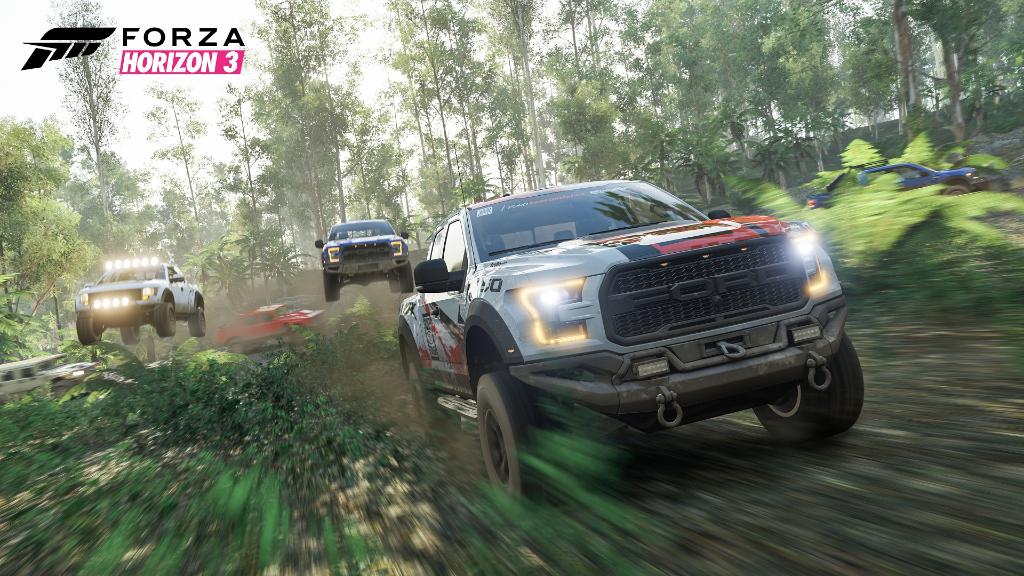 I've been playing a lot of Forza Motorsport 6 in recent months but there's something so enticing about driving over 350 highly-tuned cars and including a plethora of off-road vehicles as you drift across beach fronts or storm through Australian rainforests. Whilst on the subject of the rainforests, can we take a moment to just appreciate how stunning the graphics are in this game? From the lush green foliage to even the dirty off-road paths, everything just exudes beauty thanks to the level of graphical fidelity on show here. Everything on display is stunningly detailed.
If there's anything, in particular, that really pushes the bounds of visual realism it's most definitely the sky in Horizon 3. I've heard stories of the developers going out to Australia personally to actually capture images of the sky to re-imagine within their game – something similar to the eerily realistic work done on the sister franchise, Motorsport. The sky in Horizon 3 is always changing; clouds move and change shape, time of day changes and the whole vista is simply stunning.
Forza Horizon 3 positions you as the boss of the Horizon festival this time around. There's a fresh range of customized characters to pick from but one of the smaller features I found really cool was the nicknames. After tackling festivals in the US and Europe, you now have dominion over the entire festival.
The demo itself kicks off with you in the title car – the Lamborghini centenario, and whilst this may seem a little bit like throwing you in the deep end, the controls are in fact very accessible. Of course, after this introductory race you can adjust the difficulty based on your preference and the level of challenge you seek. The driving experience as a whole is seriously fun no matter what difficulty you play that. Though, ramping up the difficulty for a slightly more challenging experience certainly helps to get more thrills out from the gameplay experience.
Perhaps one of my favourite features playable in the demo is the new drone mode which gives you the tools to create some stunning footage as you track the camera drone and capture gorgeous photographs. There's no restriction whatsoever on where or how you can use Drone mode, meaning you'll be able to create some stunning photos and gameplay footage that just simply wasn't possible before Horizon 3. Ultimately, this feels like the best Horizon game yet, the best racer on current gen consoles yet and put frankly, just give me the game already!
---
Pre-order Forza Horizon 3 now for the Xbox One or Windows 10 PC.
Forza Horizon 3 is also an Xbox Play Anywhere title. Xbox Play Anywhere: Pre-order the digital game, and it's yours to play on both Xbox One and Windows 10 PC. This does not apply for physical disc copies.