BioShock is, perhaps, one of the most critically acclaimed game franchises ever to exist. BioShock: The Collection brings players back to Rapture and Columbia with BioShock, BioShock 2, and BioShock Infinite. All three games are rendered in full 1080p and feature all single-player add-on content. If you only play on home consoles, then this is the ultimate way to experience three of the greatest and most accomplished games of the last generation. Even if you've played the BioShock games on the Xbox 360 or PS3 or if you haven't had the joy of playing them yet; BioShock: The Collection is well worth your money. In fact, it's one of the only remasters I do wholeheartedly recommend paying the full retail price for.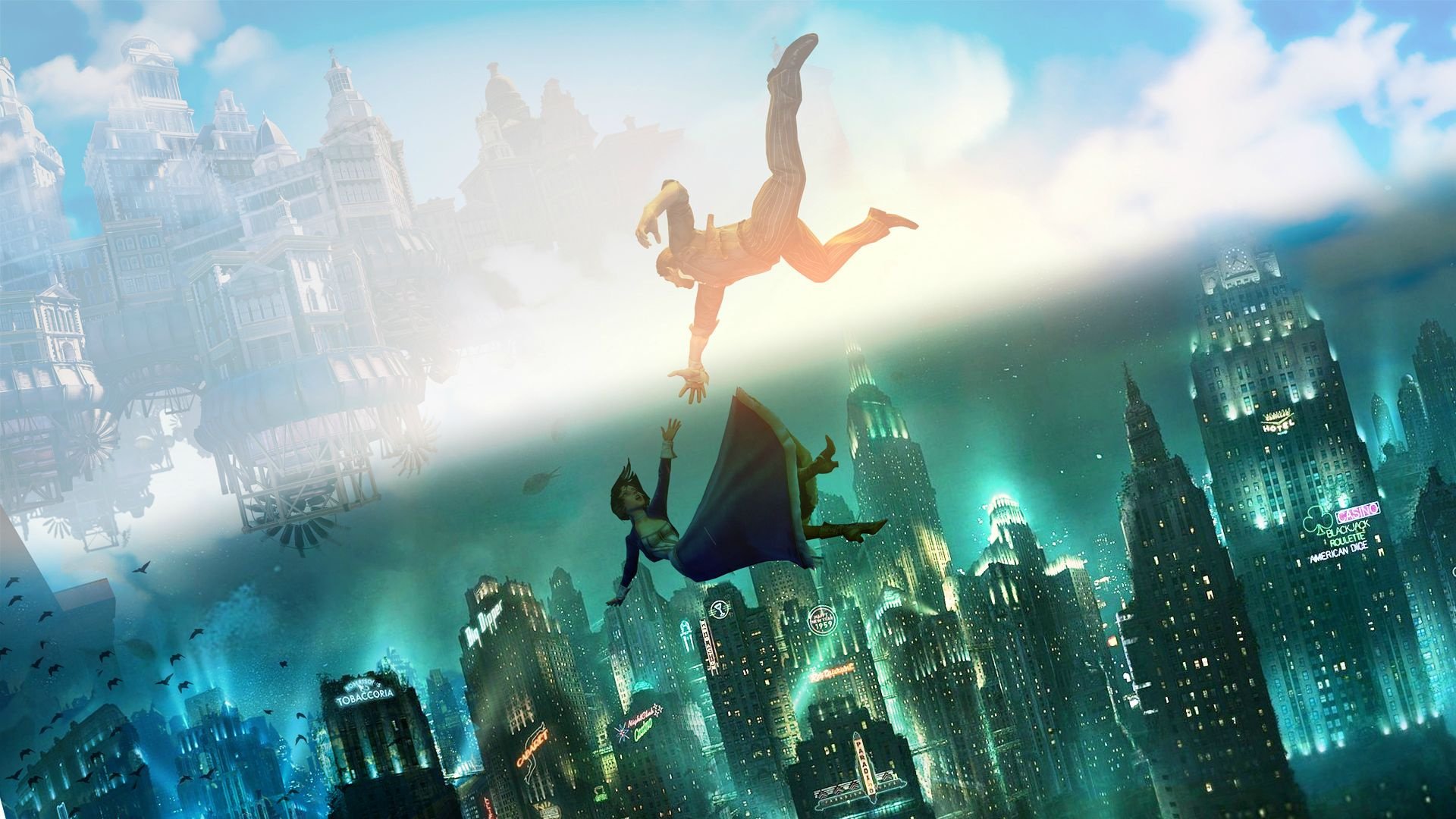 Firstly, let's start with some overall thoughts on the complete package before diving into each individual offering. Collectively, (if you pardon the pun) the BioShock Collection offers a TON of single-player content. Seriously, if you're the gamer who prefers single-player to multiplayer then this collection has a massive amount of content on offer. Not only do you get the hugely praised single-player of all three base games, you will also get all the additional single-player content that all three games offer:
BioShock Infinite
Burial at Sea – Episode 1 & 2 Add-On Packs: This major two-part DLC pack completes the BioShock trilogy by taking the series back to where it all began. Return to Rapture just before the events of the original BioShock!
Clash in the Clouds Add-On Pack: Face 60 waves of challenges across four additional maps for leaderboard glory and unlock areas to explore in The Columbian Archaeological Society hub museum.
Columbia's Finest Pack: Combines the contents of the Industrial Revolution Pack and the Upgrade Pack and includes 500 Silver Eagles, five Lock Picks, six unique Gear items, and two weapon upgrades: Comstock's China Broom Shotgun and Comstock's Eagle Eye Sniper Rifle.
BioShock 2 (Multiplayer will not be included)
Minerva's Den: A self-contained BioShock story, presenting a side of Rapture you've never seen before. Use expanded combat abilities with the experimental Ion Laser and chaotic Gravity Well Plasmid, unique to Minerva's Den, as you face off against the Lancer Big Daddy.
Protector Trials: Take control of an Alpha Series Big Daddy woken out of hibernation just before the events of BioShock 2.
BioShock
The video series, "Director's Commentary: Imagining BioShock," featuring Ken Levine, creative director on BioShock and BioShock Infinite and Shawn Robertson, animation lead on BioShock and animation director on BioShock Infinite.
Museum of Orphaned Concepts: Walk through a Rapture-inspired virtual museum that gives you a behind-the-scenes look at discarded concepts that never made it into the original game.
Challenge Rooms: Outside the story of BioShock, tackle puzzles, splicers, and Big Daddies.
All of that, in one complete package, is what makes BioShock: The Collection one of the best value games this holiday. In particular, the BioShock 2 DLC Minerva's Den and BioShock Infinite's Burial at Sea are two of my favourite DLCs to ever hit a single-player game so it's marvelous to see all three games packing all their DLC packages.
Returning to BioShock – the first game – was like taking a walk down memory lane. How I remember with such fondness playing through this game multiple times on the Xbox 360 and now, to play it with all the improvements on Xbox One, was wonderful. Even as someone who had played it multiple times in the past, it was still such a treat to revisit Rapture with all the technical improvements brought about with the 1080p resolution and other improvements. To put it bluntly, it's nothing short of jaw-dropping. If there's one thing the BioShock series has always delivered it's the overwhelming sense of wonder and not only is it not lost with this remaster, it's reinvigorated thanks to graphical improvements.
On that subject, it's discernable that the original is given more graphical touch-up than the sequel, BioShock 2. Overall, it appears the first title has been given the most attention which makes sense considering it is the oldest title of the three. So, if you play in the chronological order, you might notice a slight difference to BioShock and BioShock 2 graphics because the sequel doesn't appear to have received as extensive improvements. Regardless, both are masterfully worked. Although slightly less critically received since Ken Levine and his team didn't work on it, BioShock 2 is still an immensely impressive game that takes a more emotional approach in its character development.
Emerging from the ocean depths after the catastrophic plane crash in the opening cinematic of BioShock encapsulates, so quickly, what this game is about; a cinematic first person experience. You make your way to the towering lighthouse, ever a distinct symbol across all three BioShock games, and begin your descent down to Rapture. An underwater 'utopia' that has never looked this good on consoles, until now. The city has eroded into an underwater prison of fallen ideals and horrific creatures. If you like engaging narrative experiences packed with excellent gunplay and mechanics, BioShock has it all.
BioShock 2 is quite an interesting story, both in-game and the real world story behind the game. Instead of being developed by Irrational Games who made the first BioShock, the sequel here was actually developed by 2K Marin. Set approximately 10 years after the events of the original BioShock, the halls of Rapture once again echo with sins of the past. This time around, you play as a whole new protagonist, going up against the new antagonist that has taken Rapture in her grip. In BioShock 2, you play as a Big Daddy named Delta, revived 10 years after being forcibly separated from your Little Sister and tasked with saving her.
Unfortunately, many were quick to point out the retreading of the sequel with the masterful first game and critiqued it as such. However, it was still very well received when it released and, like a good wine, it has only got better with age. In fact, I might say it's one of the most underrated sequels ever. It's a fantastic game when you take it on its own merits and don't fuss about its position in the trilogy. The more emotional and story focused emphasis in this game definitely earns it a spot, alongside the other two, as one of the greatest games of the last generation of consoles.
BioShock Infinite is the newest of the BioShock games and was released in 2013 by the developers of the first game, Irrational Games. It's neither a sequel or prequel to the original games but takes the series to new heights, quite literally, since Columbia is based in the clouds above.This time, you assume the role of new protagonist Booker DeWitt, with the job of finding a young woman named Elizabeth – locked away in a tower and kept prisoner by a hulking beast called Songbird and the city's self-proclaimed Prophet named Zachary Hale Comstock.
2013 was a very competitive year for Game of The Year contenders since juggernaut titles like Grand Theft Auto V and The Last of Us also released in the year but BioShock Infinite still managed to stand out and lead the pack as one of the best titles of the year. If not, one of the best titles of the entire last generation. That's why I love this collection so dearly; all three games truly are three of the best that the last generation of consoles offered. If you enjoyed them then, the nostalgia effect and improvements will bring you straight back in. If you missed them last gen, then now you can experience the ultimate version of these games on home consoles.