Possibly one of the biggest hyped games to have been released this year, and undoubtedly one of the worst, No Man's Sky, recently had their Twitter account compromised resulting in a tweet reading 'No Man's Sky was a mistake.', saying something that everybody has probably been thinking following the Advertising Standards Authority of the United Kingdom launched an investigation into the game after complaint upon complaint from players into how the game had actually been advertised on the game marketplace Steam.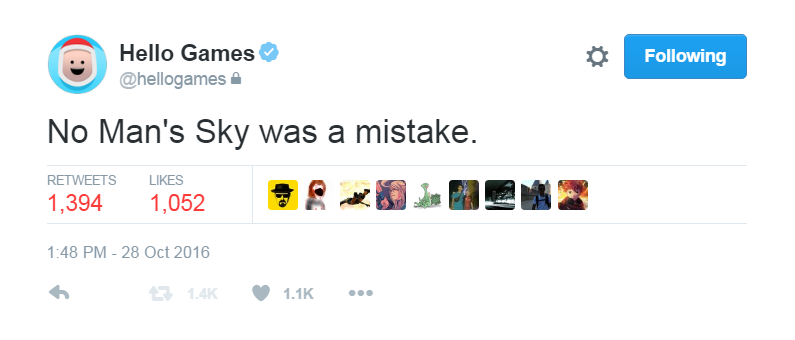 Following months of complete silence after the release of the incredibly highly-anticipated sci-fi, procedurally generated exploration game on PS4 and PC, a hacker(s) was able to gain access to the Twitter account of Hello Games through – what Sean Murray, Hello Games founder, and No Man's Sky creative lead liar – LinkedIn as it does not use two-factor authentication. However, Erik Kain of Forbes contacted Hello Games regarding the breach and was replied to, telling him that it was the work of a "disgruntled employee".
Before this event, the twitter of Hello Games had been unused since September 23rd after the release of the latest patch 1.09 which, with all of the controversy regarding the game, doesn't really make anything better. So was releasing No Man's Sky a mistake anyway? I certainly think so. I was so looking forward to the initial release of the game with everything Murray was telling us would be in the game, but following the release it just goes to that he wasn't to be trusted and we were completely lied to.
It honestly feels as if we've all been fucked over in my eyes, Sean Murray can't even answer to the lies he'd been feeding us to the extent where the Sony Worldwide Studios president Shuhei Yoshida had to give an official statement to cover their back.
It wasn't a great PR strategy, because he [Murray] didn't have a PR person helping him, and in the end he is an indie developer. But he says their plan is to continue to develop No Man's Sky features and such, and I'm looking forward to continuing to play the game.
Since the launch, people have been upset because a developer with eyes bigger than his stomach pumped the game with too much gusto and lie, with Sony pumping it up too until the game dropped and was unbelievable underwhelming and as per usual, the gaming community turned toxic with good reason. Admittedly Sony are not without fault in this situation, being heavily involved in the selling of the game with a ridiculous price tag for a game that was probably better off being sold with the 'early access' tag.
All in all, No Man's Sky is just an ugly stain on the gaming landscape. Yeah, it's an indie game that shouldn't have gotten the recognition it did because, in the end, that's what brought it to its ugly end but with the hype build up some of us just didn't want to believe that it was going to fail. Maybe the reason we've heard very little from Hello Games and Murray is because of the harassment they've gotten regarding the game which is in no way unsolicited. The tweet is pretty perfect for the situation, though – No Man's Sky was a mistake, one that we shouldn't try to make again.
---
Do you think No Man's Sky was a failure or a mistake? Perhaps you don't think the harassment was solicited and they tried their hardest for an indie development team? Let us know down below in the comments, we'd love to hear from you.
Don't forget to check out our Twitter page for regular updates, articles and fantastic giveaways for all to enjoy!