If you were a fan of classic racing games like Daytona USA and Virtua Racing then their may be a new racing game out of interest to you. Hotshot Racing is a new low-poly art style, arcade racing game brought to you by Lucky Mountain Games and Sumo Digital, the latter of which worked on the Sonic racing games we've seen in past years. I got to play it for this review and while some things about it aren't so great, overall, it's a great time.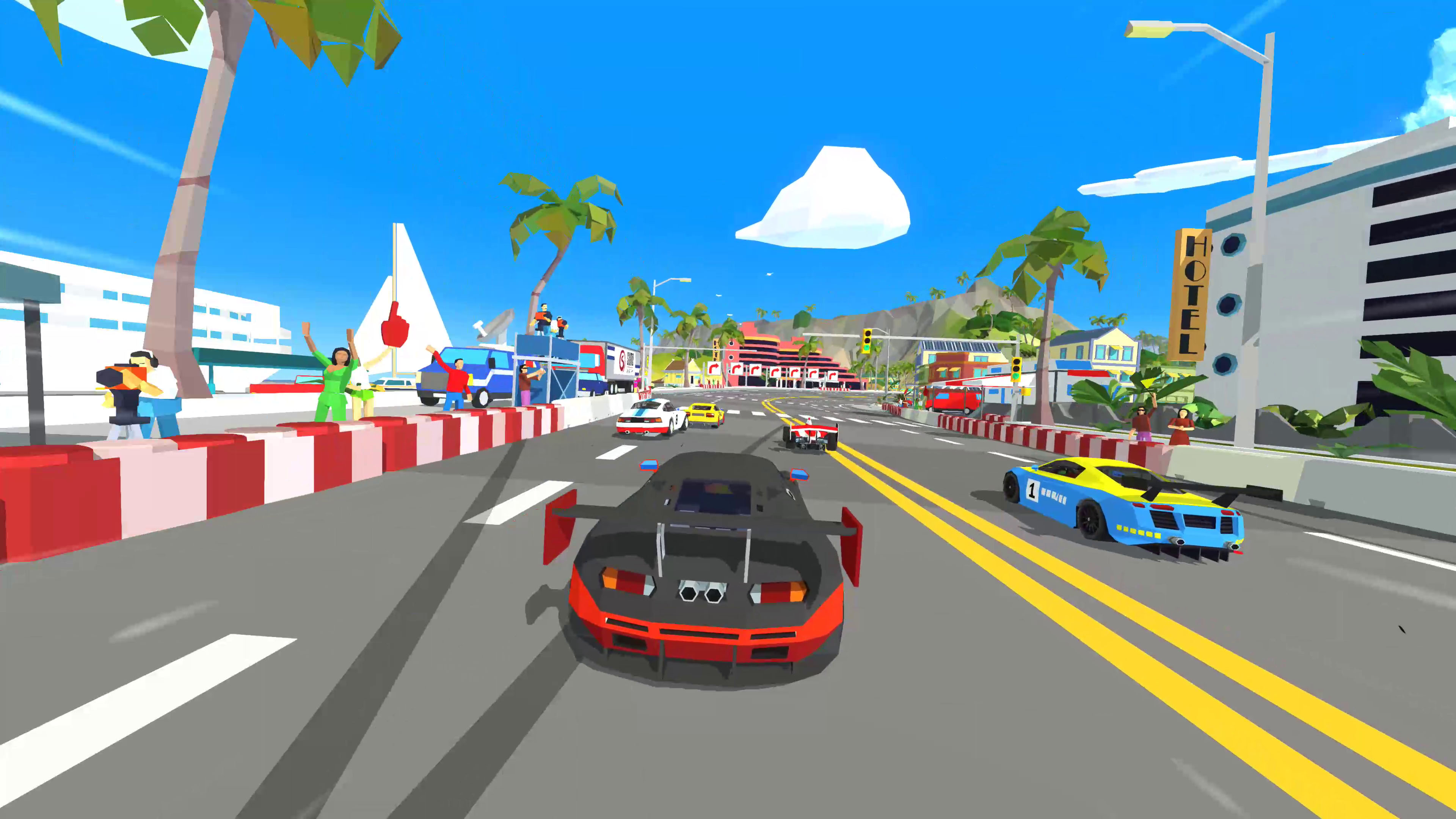 When I got into the game I found that it offers a wide array of modes to dive into. Grand Prix is a great place to start as it consists of four different events each having four different races. You can choose from a variety of different race drivers from different countries to play as and each of them has their own Grand Prix ending to see to encourage you to replay it. There are also different difficulty modes to play on letting you go with what feels best for your skill level.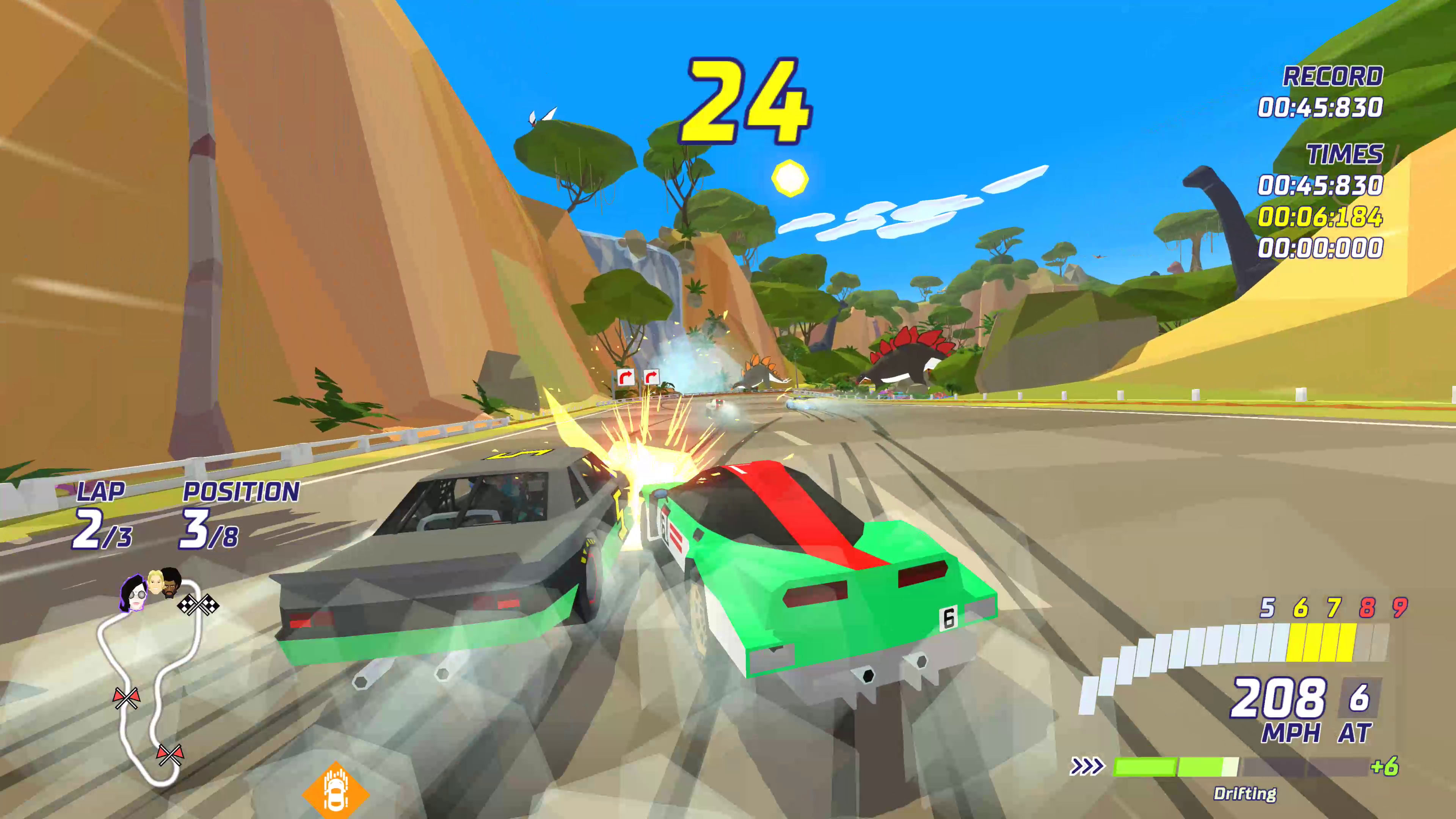 Single Race lets you just dive into one of the many tracks in the game and play them on a few different modes. Drive or Explode is a take on the movie Speed where you have to maintain a certain speed or else your car with blow up. Cops and Robbers is another mode where you can play as either one. The robbers have to escape while picking up cash on the track while the cops have to take them out and turn them into more cops as a result. Both of these race types are a lot of fun and help to bring some variety to the standard races.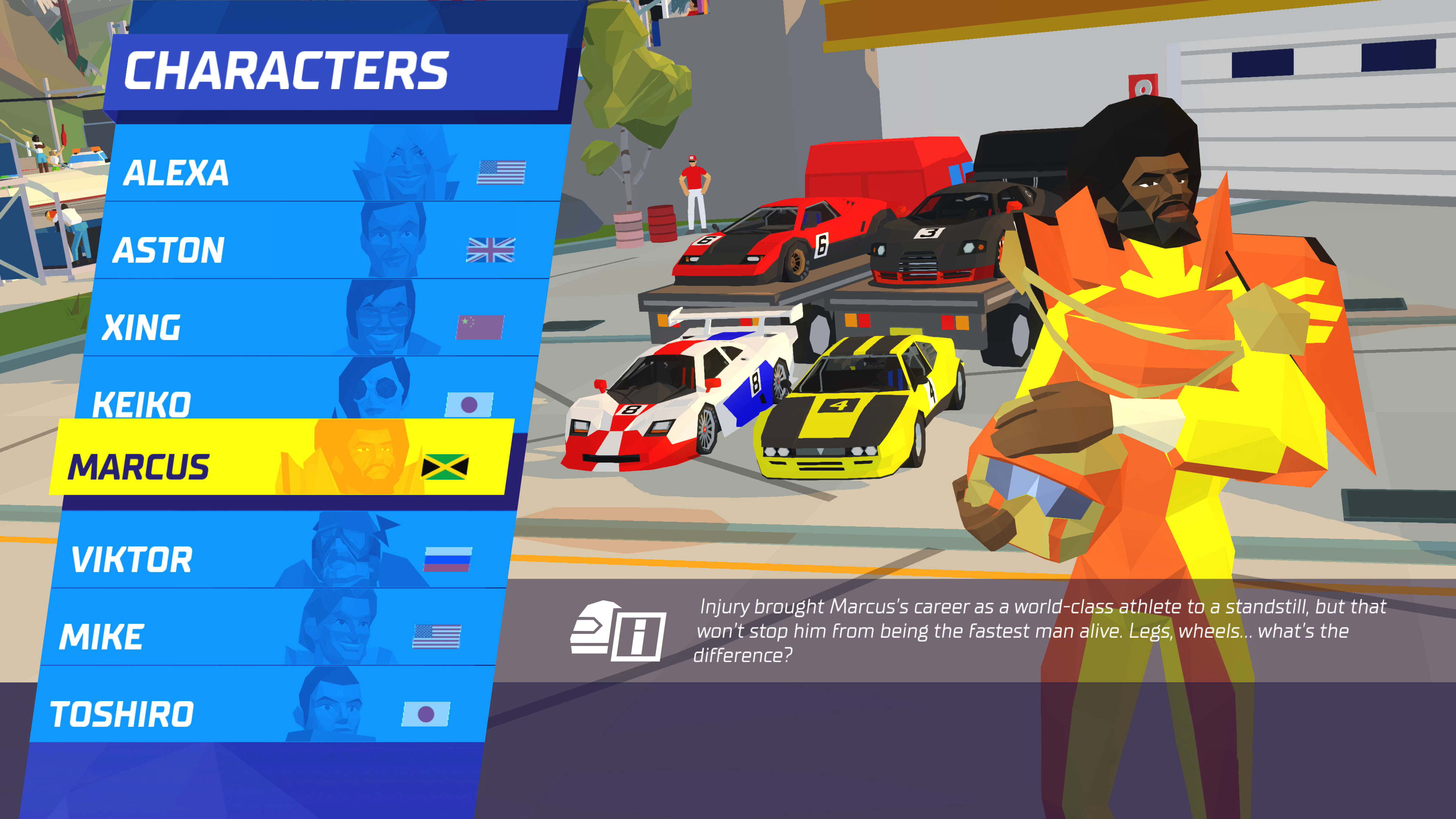 Time Trials are present for those who would like to try to beat their own best time or download other players' ghosts to compete against. Hotshot Racing also comes with full multiplayer support both locally and online. Local support includes full four-player split-screen in every mode but Time Trials. Online supports up to eight-players in a race with options for quick races and ranked races. I've played a bit since the game came out for everyone and while I was able to find players to race against on PlayStation the population did seem kind of low. For comparison, I fired the game up on Xbox One and found many more players online which is likely due to the game launching on Xbox Game Pass.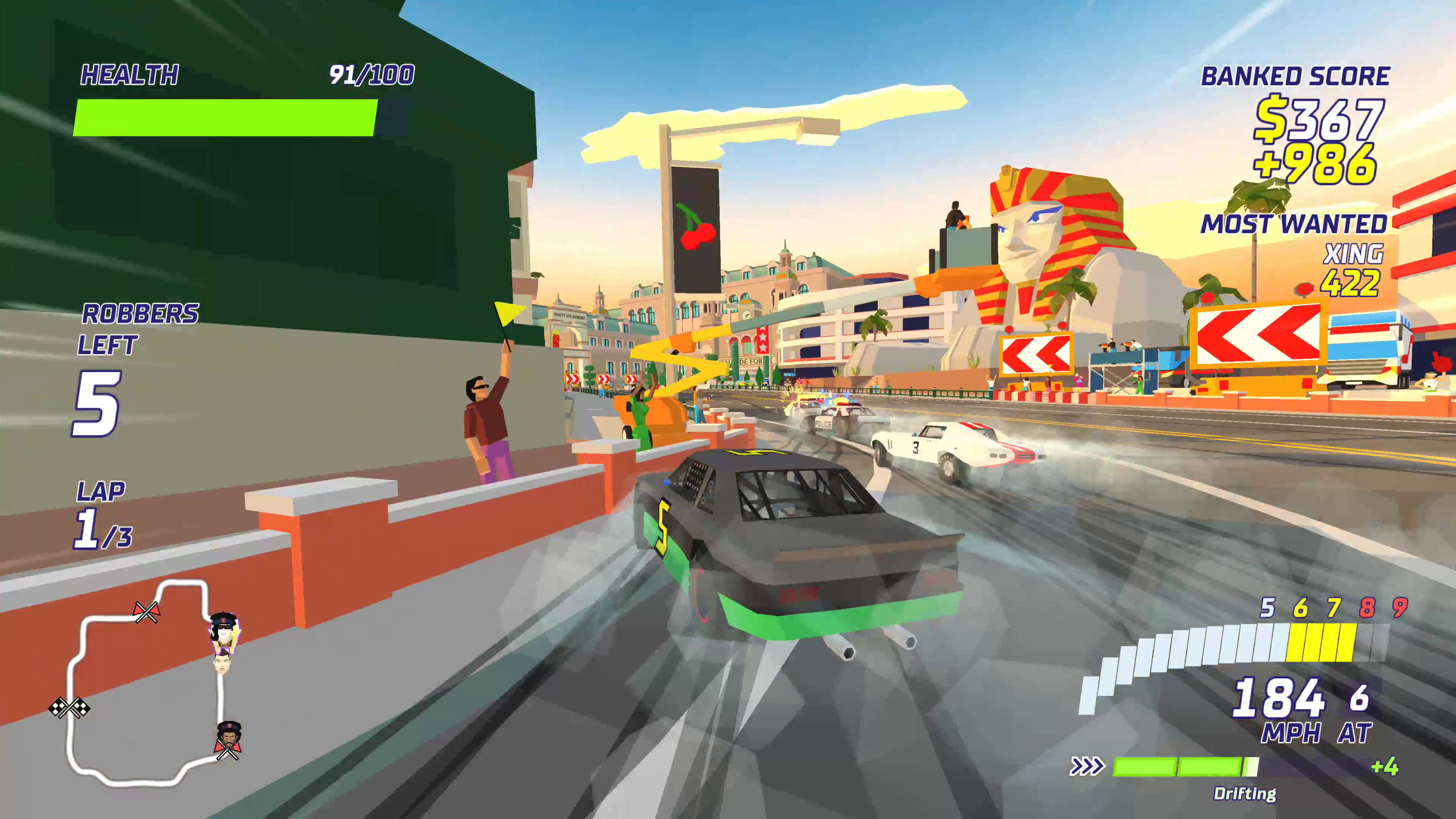 Customization options are the key thing that the game offers to keep your drive to play going. Most of the items for both your character and cars are unlocked with money you earn from completing races but some are also unlocked from winning the Grand Prixs and such. You don't have to buy any of it really as it's all just cosmetics but I found unlocking new parts and outfits pretty addictive. But enough about the modes and the cosmetics as you probably want to know how does this racing game actually feel to play?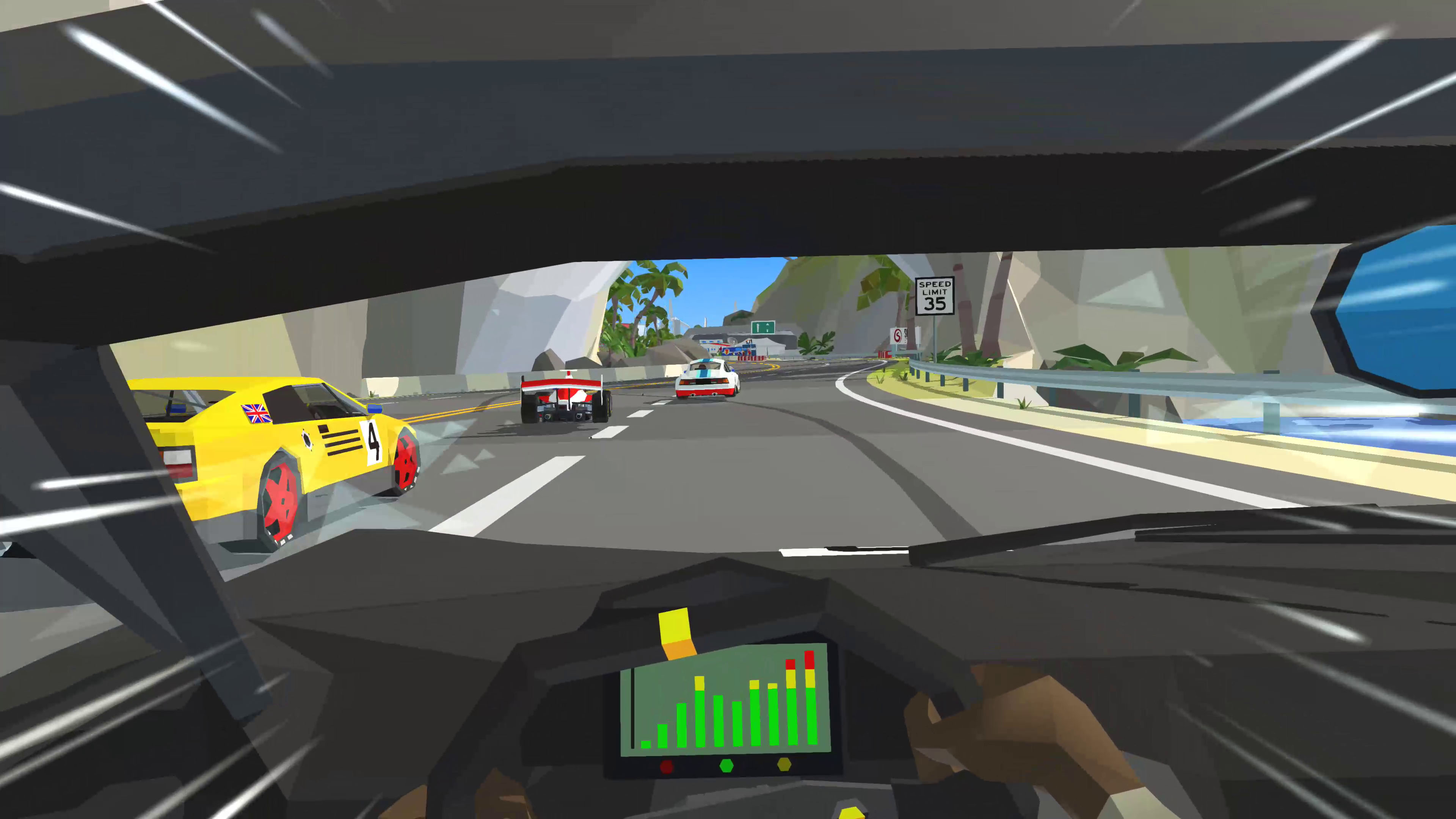 The answer is that it feels really good but it isn't without its faults. The gameplay is super smooth running at 60 frames per second and all of the cars have some great handling. The key to doing well in this game is learning how to slide effectively which is used to build up your boost meter. Drafting other racers can also build it up. The meter is divided up into parts and so long as you have at least one part filled you can unleash your boost. Each racer you play as has four different cars to choose from and each of those has their own stats like acceleration and drifting making them better at certain things than another. No matter what difficulty I played on I found the AI to be challenging but that's partly because the game has bad rubberbanding. No matter how well I felt like I was doing the AI was constantly right behind me ready to pass me. If you make a mistake on an easier difficulty it's pretty easy to catch back up but if they run into you on a higher difficulty and spin you out then you might as well just restart the race.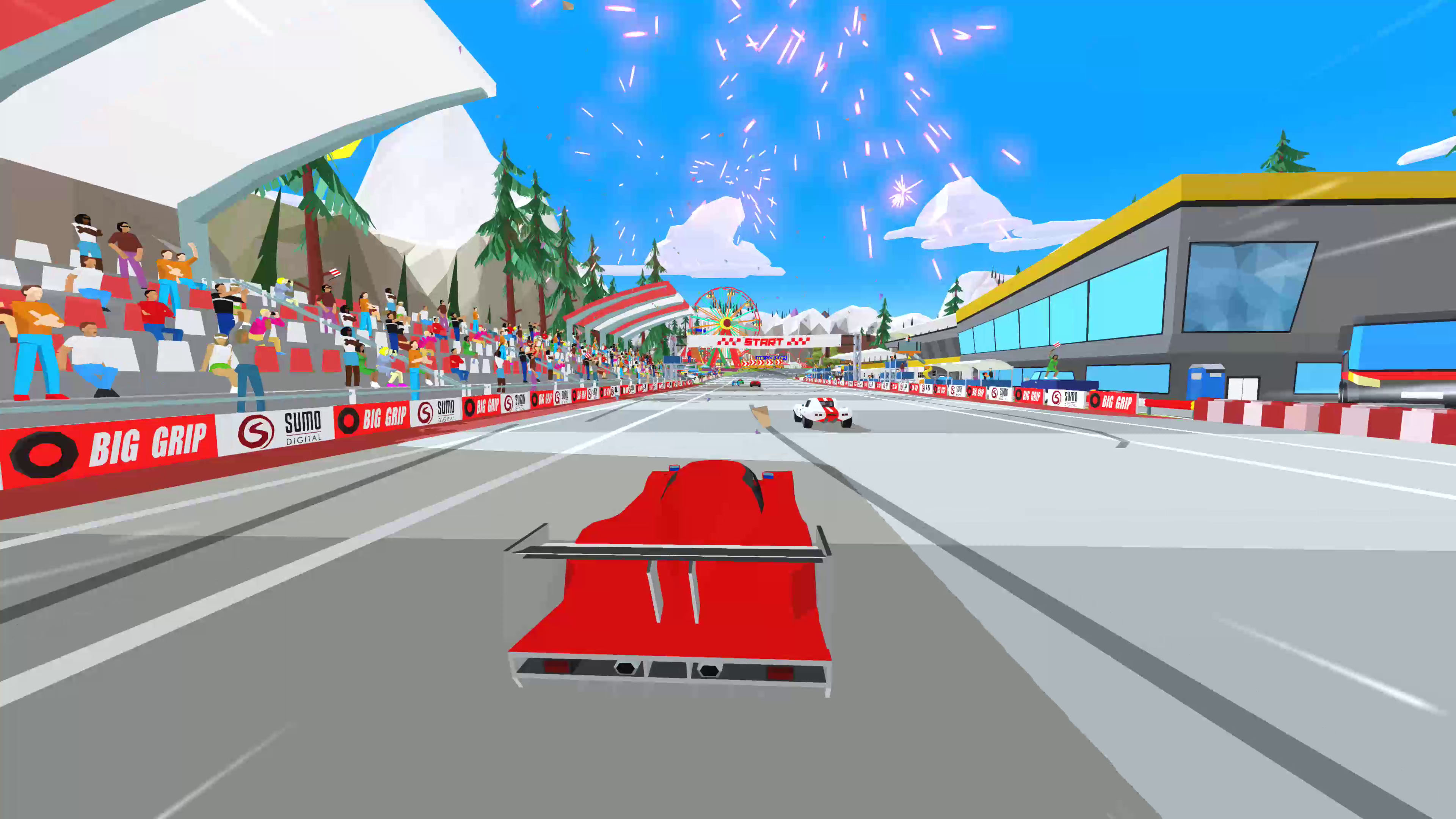 Each of the 16 tracks in the game looks great and is designed to provide you to be able to make use of the sliding mechanic. There is a good variety of environment types but the track layouts are also a bit basic and flat when compared to other similar games like Outrun. The developer says they plan to add more to the game in the future for free so hopefully we get some more variety in that area. The visuals in Hotshot Racing are low poly as I said earlier which brings back those retro feels. It looks great though and it makes great use of color and lighting. The 80's like soundtrack I enjoyed and the game has some nice sounding engine sounds. Every character also has voice lines that they'll say while you're racing but it did get a little annoying at times. Those interested in the trophy list will find 51 in total including a Platinum. Good luck earning it though as it is a very challenging list.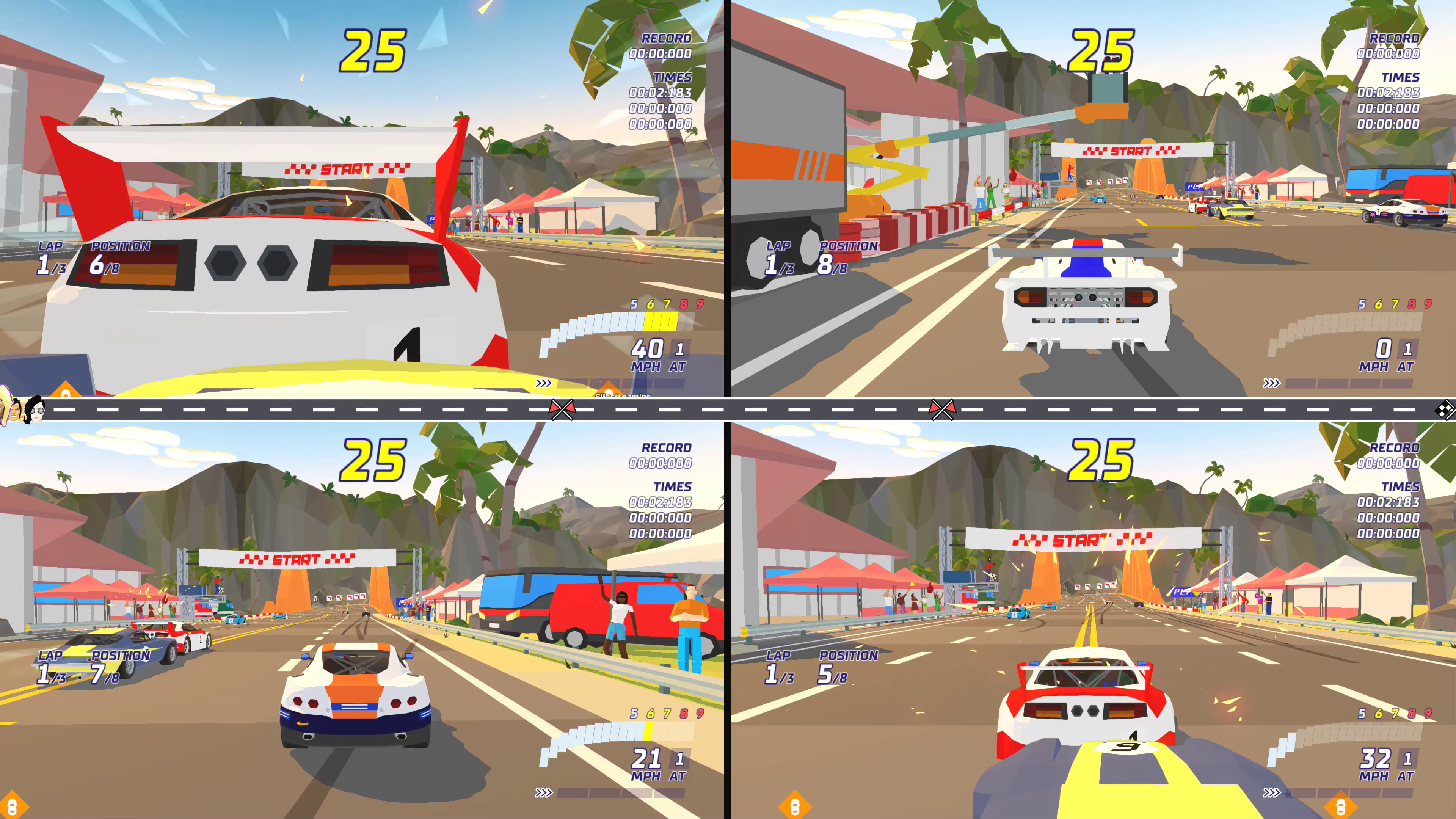 Hotshot Racing is a stylish, fast, fluid, arcade racing game that brought back memories of some classic titles. The sense of speed it delivers is satisfying and sliding around corners to build up my boost never got old. Some things need to be done about the rubberbanding AI and some more variety in the track layouts will be welcome. Fans of Daytona USA, Outrun, and similar games should have no doubts about giving Hotshot Racing some gas.
*Hotshot Racing is available now on PlayStation 4, Xbox One, Nintendo Switch, and PC. Reviewed on a PS4 Pro primarily and also tested on Xbox One X. Review copy provided by the publisher for this review.
Pros
Delivers fast and smooth arcade racing
Colorful and pleasing low-poly art style
Some fun additional modes outside the standard racing
Great local and online multiplayer options
Cons
Annoying rubberbanding AI
Track layouts aren't varied enough
Online population seemed low on PlayStation