Space Invaders is a franchise that almost any video game player has heard of even if they haven't played it themselves. You might think of the first one when you hear the name but over its 40+ year history there have been quite a few different variations of it across many different game platforms. Publisher Inin Games and developer Taito have been bringing many classic game franchises back lately such as Bubble Bobble, Darius, and others and their latest is Space Invaders Forever. It's a bundle of three classic Space Invaders titles that is available now on PlayStation 4 and Nintendo Switch. I got to go hands-on with the PS4 version for this review and here is what I think of this latest classic revival.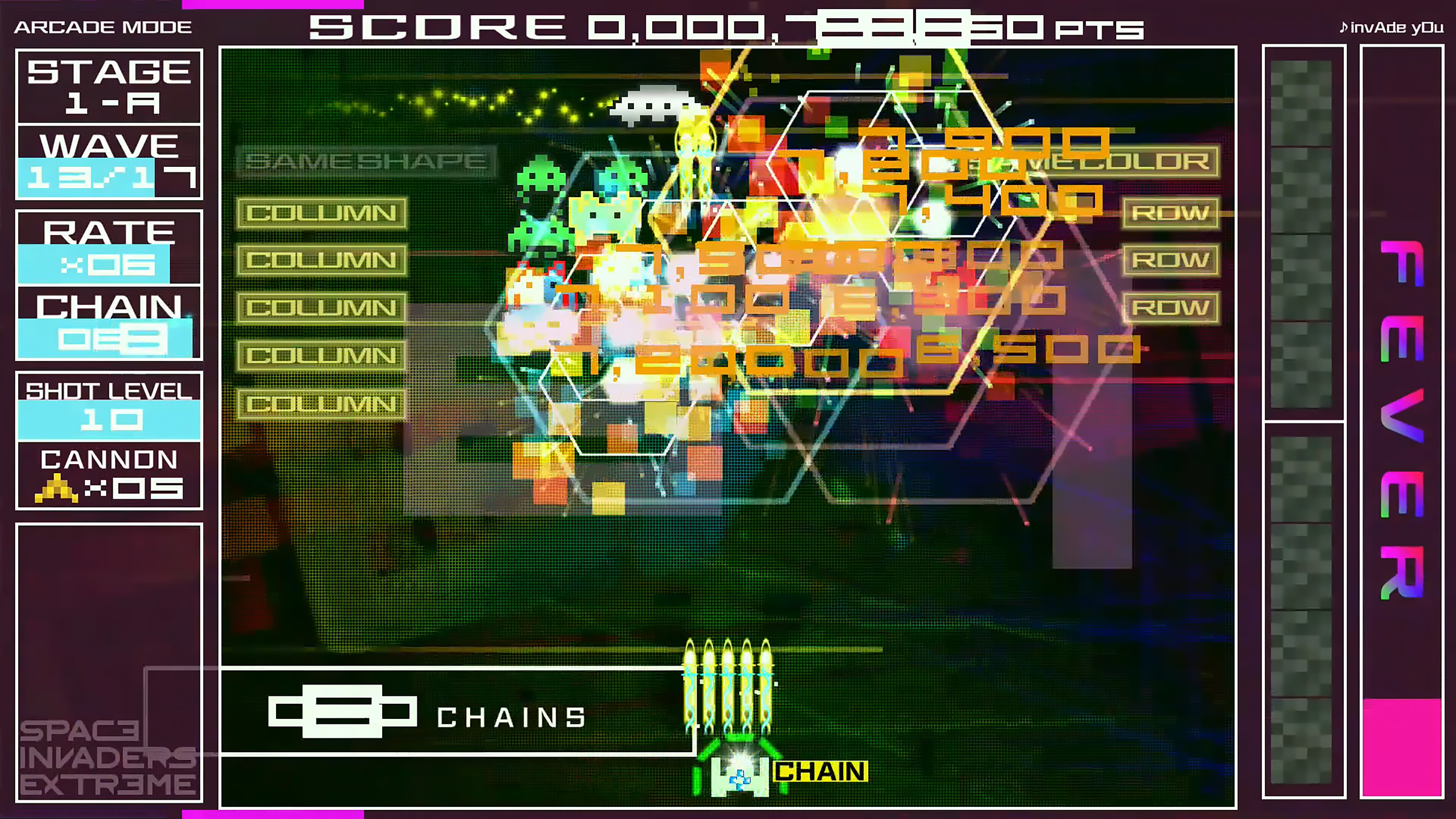 While Space Invaders Forever is a bundle of three games, they aren't straight ports but rather versions that have had some improvements made to them. Those games are Space Invaders Extreme, Space Invaders Gigamax 4 SE, and Arkanoid vs. Space Invaders. Let's talk about Space Invaders Extreme first which originally released on the PSP and Nintendo DS back in 2008 to celebrate the 30th anniversary of the first game. It also came to Xbox 360 a year after that as an improved HD version. Extreme is what I would call a flashier version of the original game as the enemy and player layout on the screen is the same but you get some awesome power-ups with the goal being to take out enemies as fast as possible to get a higher score.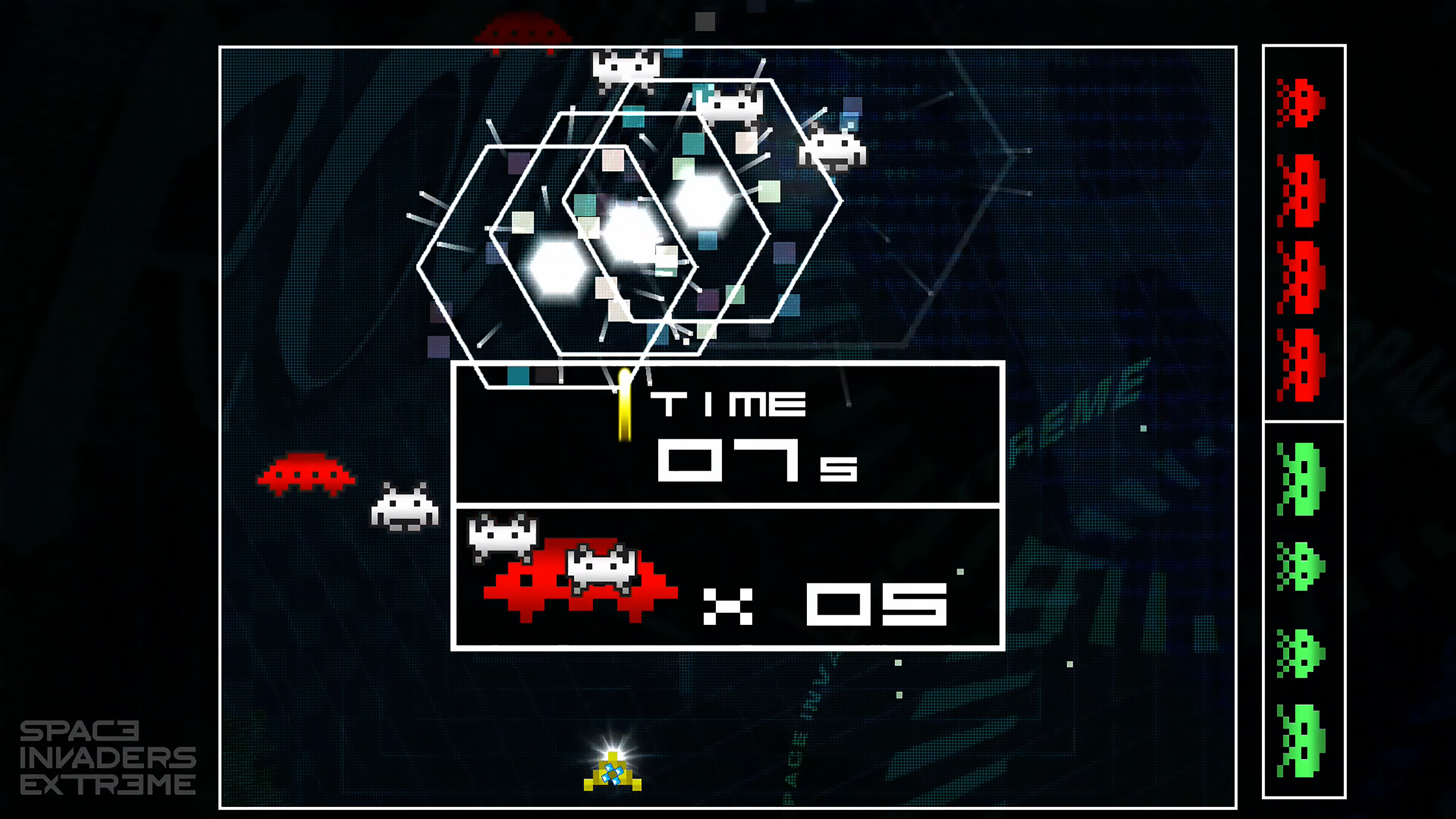 There are around 16 stages in this game and the visuals and sound have been upgraded for its inclusion in Forever. Multi-shots, bombs, and lasers can all be obtained to take out the aliens while shields can be picked up to provide some protection. Bonus rounds can also be entered and if you fulfill the objective in these then you get returned back to the regular level in Fever mode that arms you with a power-up that will last a lot longer. Boss battles are something else that sets Extreme apart from the original as huge aliens will appear at points that will further test your skills. I remember putting quite a bit of time into the Xbox 360 version and I still find Space Invaders Extreme to be a ton of fun in Forever. The only downside to it is that the multiplayer functionality that was present in the Xbox 360 version is missing here which is very disappointing.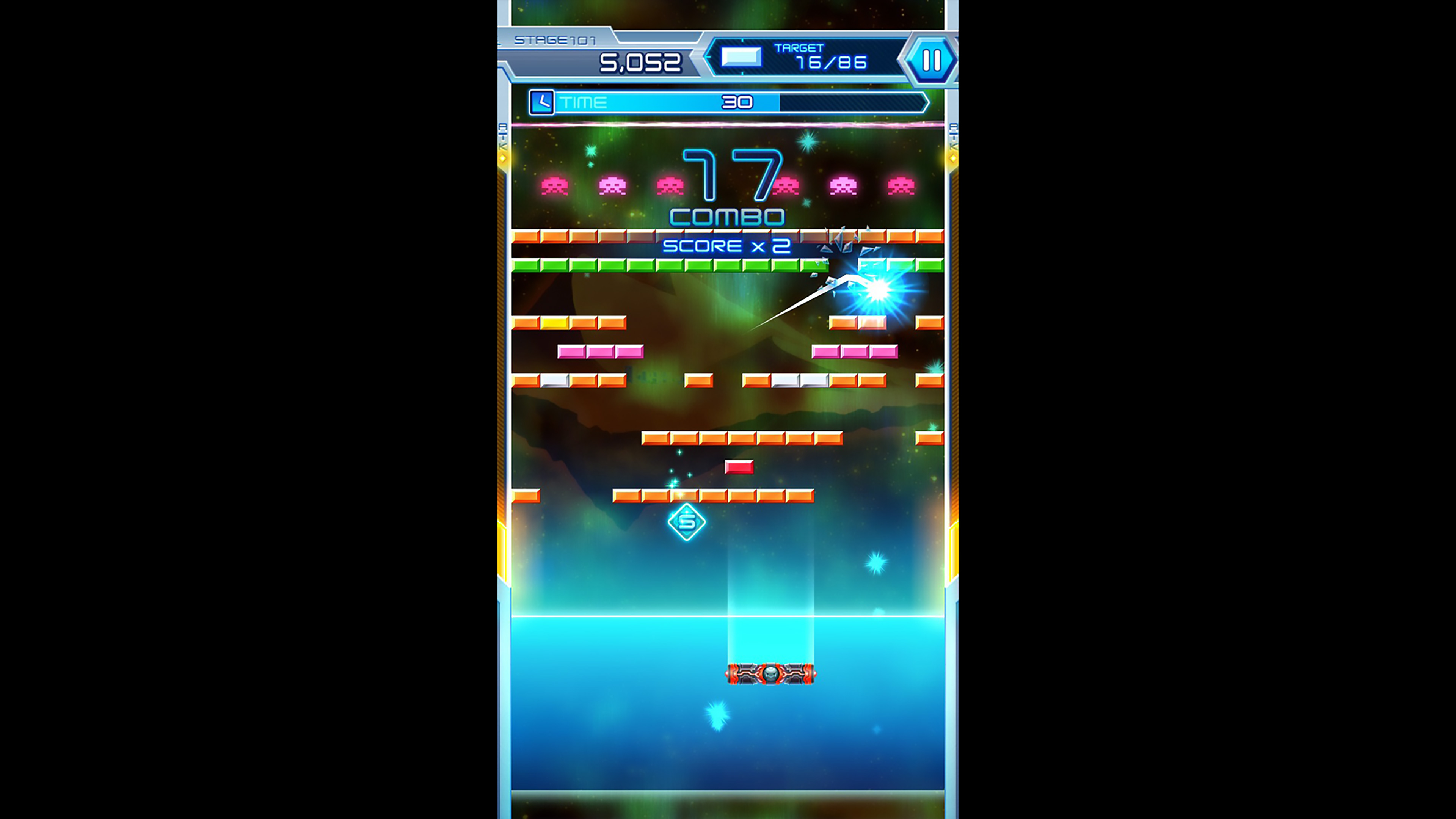 Space Invaders Gigamax 4 SE dials back the graphics to simpler times but lets up to four players play together locally. The gameplay starts off as you would expect from Space Invaders but after the first wave of aliens is destroyed the pattern switches up. Enemies then start moving across the screen differently and when they get hit by your attack, they end up growing until you hit them multiple times to finally clear them. Boss battles take place at times in this game too and can be tough by yourself but much easier with the cooperation of others. You see, if two players come together then they can fire off a shot that is much stronger than a solo shot. Add three or four players together and you'll get some real combined firepower going. It's a cool concept but if you don't have local friends to play with then I'm not so sure you'll enjoy playing Gigamax 4 SE for very long.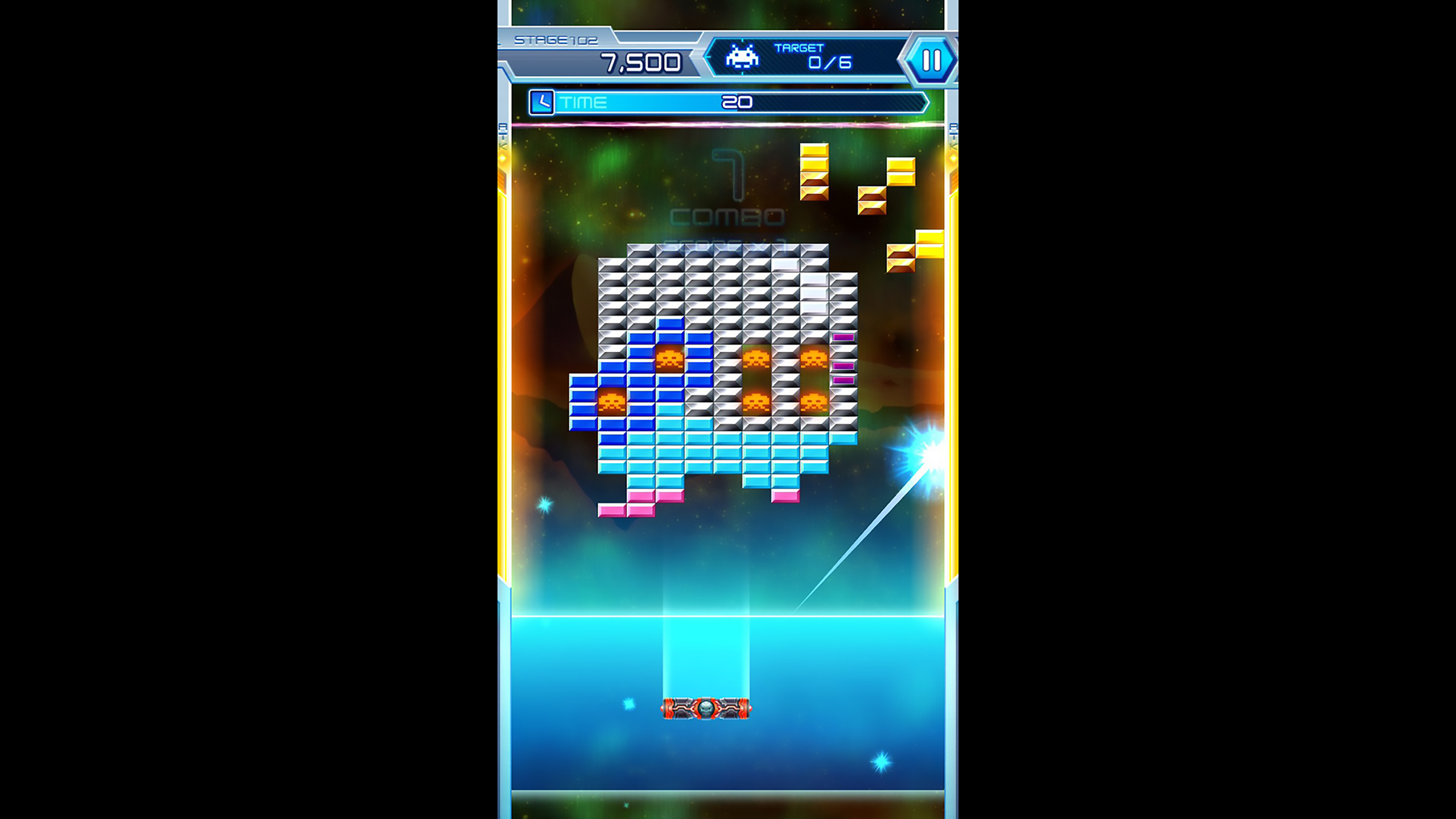 The last game in the package is Arkanoid vs. Space Invaders which originally released back in 2017 on mobile devices. For those who don't know Arkanoid is a brick breaking game similar to Breakout or many other similar games we've seen over the year. In this mash-up of these two franchises you still have your paddle along the bottom of the screen but rather than moving it to bounce a ball back to destroy just bricks you are instead moving it to bound a laser bolt back to destroy the bricks and space invaders. How you do this on the PlayStation 4 is really cool too as the controls are mapped to the touchpad on the Dualshock 4. Just move your finger on it to move your paddle around and your good to go. This was originally a mobile game so I'm actually glad the team thought to use the touch pad for the movement. The game has 150 stages to play through and there are dozens of characters you can unlock with many of them being from Taito's other game like Bubble Bobble and such. I would say this was my second favorite game in Space Invaders Forever.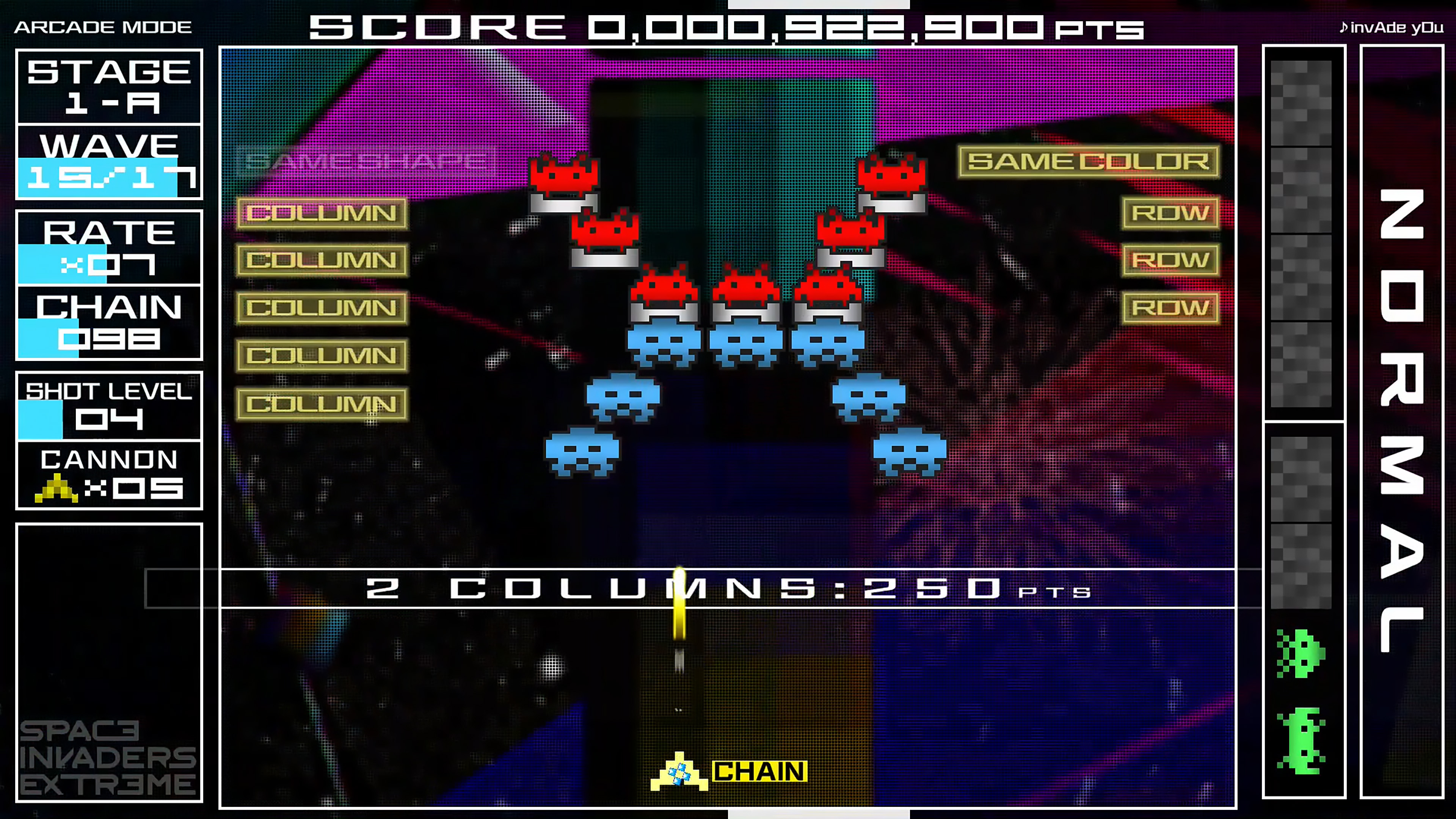 Space Invaders Forever offers some good arcade score chasing fun but might not be for every fan out there. For $30 you are getting a really good Space Invaders Extreme game, a fun mobile port, and a multiplayer Space Invaders that you may not have the friends available to play with. I do like that the team elected to go with some lesser known titles in the franchise with this collection but I'm just not sure everyone will enjoy all three games included.
*Space Invaders Forever is available now on PlayStation 4 and Nintendo Switch. Reviewed on PlayStation 4. Review copy provided by the publisher for this review.
Space Invaders Forever
$29.99
Pros
Bundles three fun Space Invaders games together
Space Invaders Extreme looks better than ever and is a blast to play
Arkanoid vs. Space Invaders makes smart use of the Dualshock 4 touchpad
Cons
No multiplayer in Space Invaders Extreme
Space Invaders Gigamax 4 SE isn't much fun playing alone
Could've used one or two other games to make it feel more complete