Deadly Days is a new rogue-lite game set in the zombie apocalypse from Assemble Entertainment and developer Pixelsplit. Burgers have turned the population into zombies and now you and your band of survivors have to put an end to the zombies.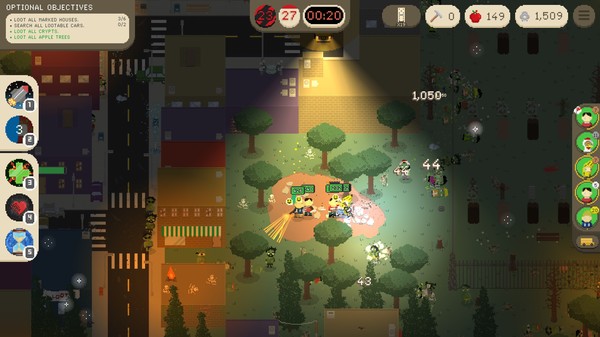 In the game you'll go day to day with your band of survivors and have to take on procedurally generated missions. Sometimes you'll be sent out to scavenging buildings and areas for supplies to take back to your camp while other times you need to find other survivors to bring back to join you. While you're out searching, you'll have to keep your people alive by fighting off any zombies that come along. The combat plays itself with your characters automatically firing at the zombies. Because you don't have much control over it you need to make sure you find and equip the best possible gear on your people. There is a big variety of guns and abilities for your characters like the ability to call in an airstrike for instance or to temporarily freeze the zombies on-screen.
When you are just fighting a few zombies it isn't a big deal but later on you'll encounter them in greater numbers as well as special zombies who can kill your characters before you know it. You also don't want to be out at night at the zombies are even more deadly then. To best survive you really need to find plenty of food, rescue people to grow your numbers, and get better gear. When you are at your base you can use the food you find to level up or feed your people. You always have to keep in mind how much you have because as your camp numbers grow you don't want your people to starve.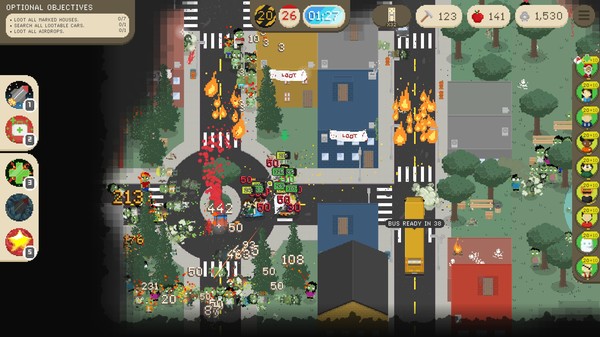 Deadly Days uses a pixel art style for its visuals that gives it that retro look. It looks good but also looks like a lot of other pixel art games out there. I thought the game had a nice upbeat soundtrack too that seemed to match the tone of what was occurring on the game at the time. Trophy hunters will find 54 trophies to earn here including a Platinum. With such a large list you'll be asked to do a large variety of things to earn that Survivor Platinum.
Deadly Days is a solid retro looking rogue-lite game but may not be for everyone. It has plenty to keep you busy so long as you don't mind doing a lot of the same types of objectives over and over. You will die a lot like most games in this genre but there is fun to be had in building up your camp and your band of survivors to take down these zombies.
*Deadly Days is available now on PlayStation 4, Xbox One, Nintendo Switch, and PC. PlayStation 4 version reviewed. Review copy provided by the publisher for this review.