There are so many different platforming games out there that sometimes you need something in your game that makes it stand apart from the rest. Publisher HandyGames and developer Bad Dream Games have done just that with their new musical puzzle platformer One Hand Clapping. It's a game that will require you to use the power of your voice to get things done.
Now I'll be the first to tell you that I can't sing and for that reason I usually skip games like Let's Sing or stick to the guitar or drums in something like Rock Band. I am a fan of platformers though and so when I saw this game required you to use your voice to play, I thought I would give it a go and see how I'd do. One Hand Clapping is a 2D platformer that has you navigating through six vibrant worlds. For the voice input you can use a Singstar microphone or just use a headset whichever you prefer. I usually start off by talking about the story of a game but there really isn't much in that regard to speak of here. There is no dialog and if there was some meaning behind the story, I'm not sure what it was. You meet some other characters throughout the game but with no dialog present they really don't contribute much.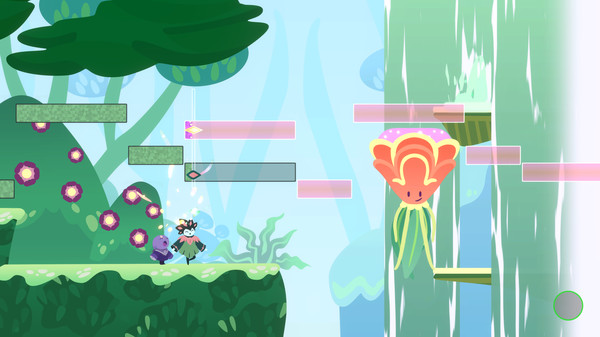 The game starts you off by easing you into how the mechanics work. You start off in a dark level called Slant City and will use your voice to light up lamp posts and to raise and lower platforms so your character can cross. It seemed pretty easy for me to just hum some notes to complete these parts but it gets harder as you go as one might expect. It was also quite amusing when my wife came in the room and asked why I was making all of these constant sounds. Later levels will have you using your voice to soar through the air, match inputs on the screen, use mirrors in interesting ways, turn gears, cause berries to drop, and much more. Every level feels unique in asking you to use your voice in new ways and they all kind of build off what you've been learning up to that point.
The developers also made it so that anyone should be able to get through this game regardless of their musical talent. There are options you can turn on to show you what notes you are singing. You can also turn on some auto-complete options should you find yourself unable to progress at all. I liked that these options were here as games should try to account for every player's abilities if possible. That said, I also feel like some parts of the game were just a little too hard or unclear that I'm guessing a lot of people might end up using the auto-complete. Visually the game is a treat with each world featuring a different color palette. You'll go from the dark and spooky Slant City to the orange and pink Duet Desert to Fugue Forest that is more blue and green. Trophy hunters will find 29 trophies here including a Platinum. It will be a tough list to complete with the harder ones asking you to complete areas with no errors.
One Hand Clapping is a vibrant 2D puzzle platformer whose use of voice helps it stand out. Every area in the game looks unique and it is constantly changing up how you have to use your voice to interact with the environments. I think some of the later parts get kind of complicated and I'm not sure what the story in the game is really about if there was one. If you're looking to use your voice to interact with a game in a new way you should give it a try.
*One Hand Clapping is available now on PlayStation 4, Xbox One, Nintendo Switch, and PC. PlayStation 4 version reviewed. Review copy provided by the publisher for this review.